AppleInsider is supported by its audience and may earn commission as an Amazon Associate and affiliate partner on qualifying purchases. These affiliate partnerships do not influence our editorial content.

Carry all of your Apple essentials from your MacBook Pro charger to your AirPods with the novel BentoStack from Function101.
Function101's BentoStack has been around for several years, but its most recent iteration has a few tweaks, including integrating a stand into the top. Whether as a modern housing to hold your peripherals at home or for travel, the BentoStack is a fun, Asian-inspired solution.
Be more organized
Hailing from Japan, bento is a single-portion meal that evolved into a popular style of lunch boxes here stateside. They usually stack, holding food in different compartments with the top reserved for utensils.
Function101 took this idea and turned it into a modular storage system designed specifically for Apple accessories.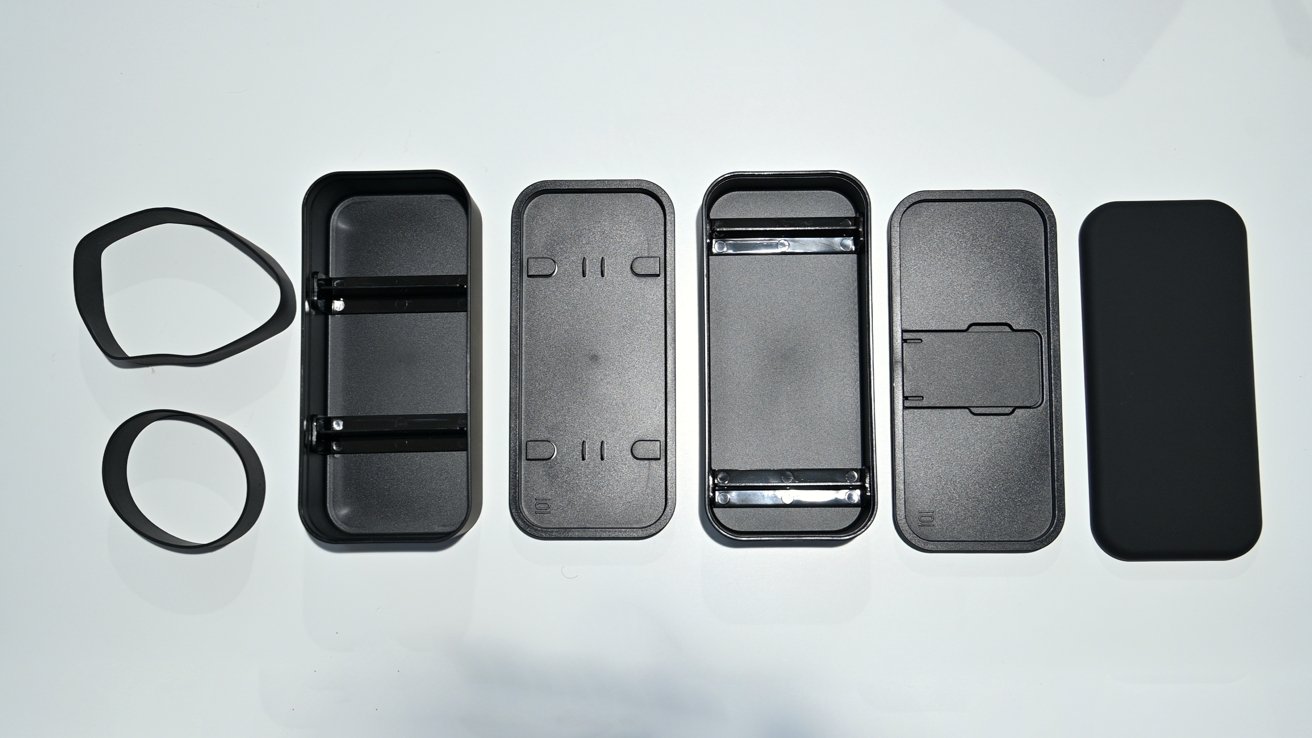 Function101 BentoStack components
The basic kit comes with two large storage containers with two smaller dividers that fit on top. You can use all four (plus the lid), or you could opt to use just the top or bottom compartments if you have less to hold. Function101 provides two different elastic bands to fit either configuration.
Each compartment is designed slightly differently. Some can be used for general storage, while others hold specific items.
The bottom compartment is the largest. It has two adjustable dividers inside to help group your items. We removed one of the dividers and placed our MacBook Pro's MagSafe cable and our 140W GaN power adapter.
The 16-inch MacBook Pro's charger is the largest power adapter that Apple makes, and if you have any other portable Mac, its charger will take up quite a bit less space.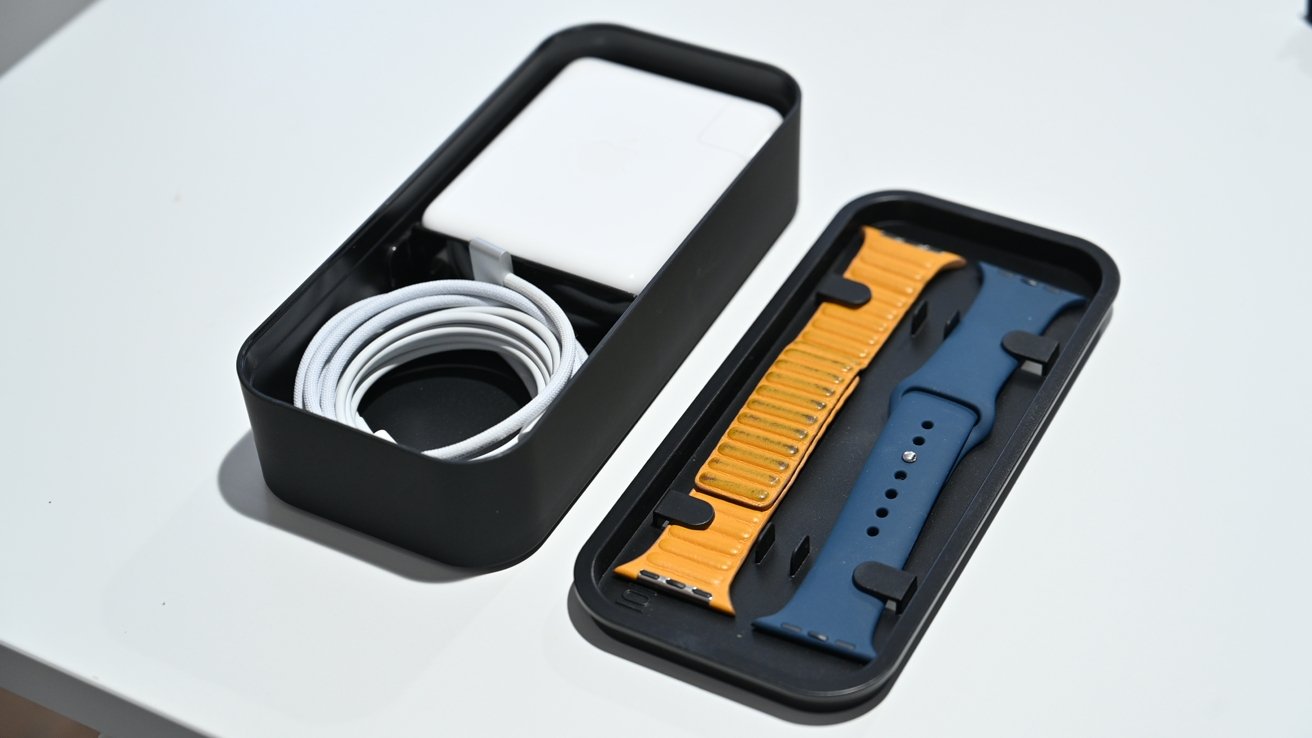 Our Mac charger, cables, and watch bands in the Function101 BentoStack
Sitting on top is one of the two thinner layers equipped with two clips to hold spare Apple Watch bands in place. Most bands will fit just fine, but we did have a couple of our regular bands that didn't work out. That includes Nomad's graphite stainless steel metal link band. It's curved and can't lay flat enough.
In between the watch band clips, there is a small gap, just large enough for your Apple Pencil. The size of the box is just large enough for the Apple Pencil to fit across.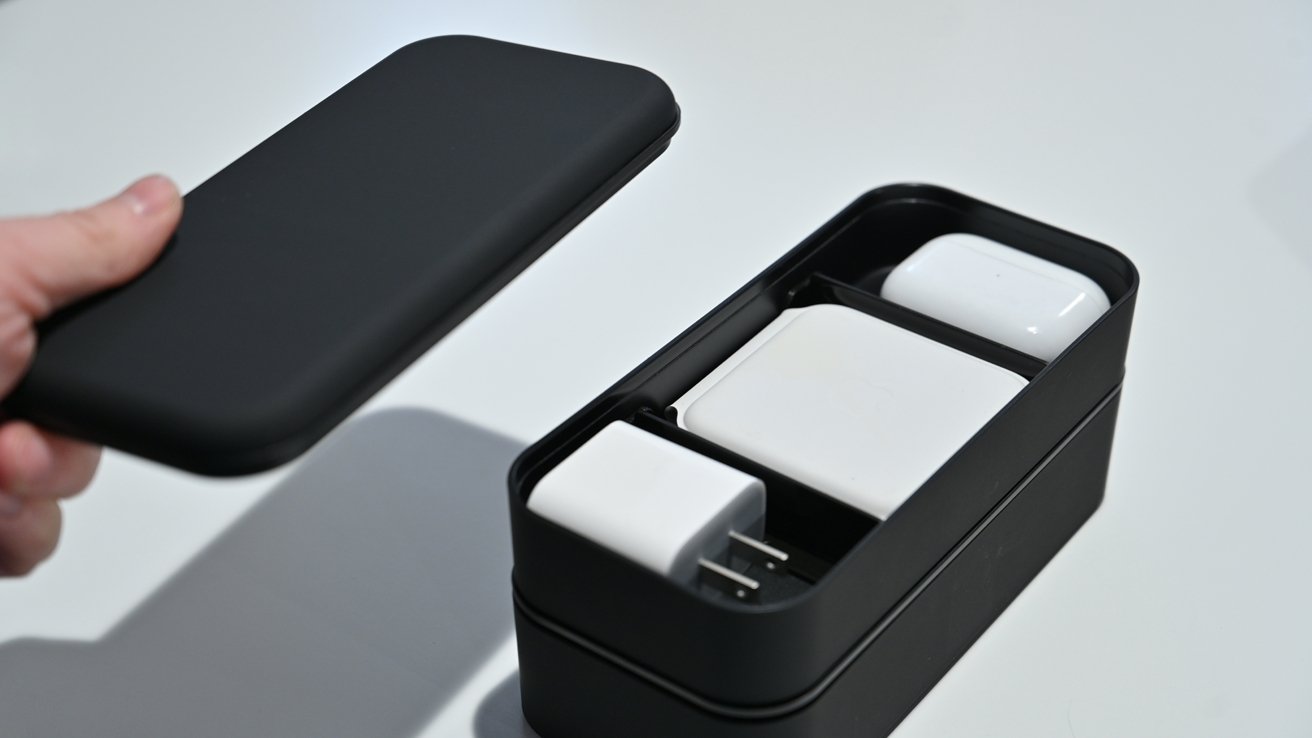 Placing the lid on the Function101 BentoStack
The upper compartment is just slightly smaller, which has its downsides. Our AirPods, MagSafe Duo, and our USB-C power brick all were dropped in. Apple's 5W brick fits fine, but anything larger wouldn't allow the top to fit in.
This gave us problems when trying to fit in all of our gear. We need the 20W brick to power MagSafe, but we didn't have enough space in the bottom compartment to fit it there. We tried moving our cables up to the top, but they were too tight too.
The best option is to leave the thin top insert out and just put the top on.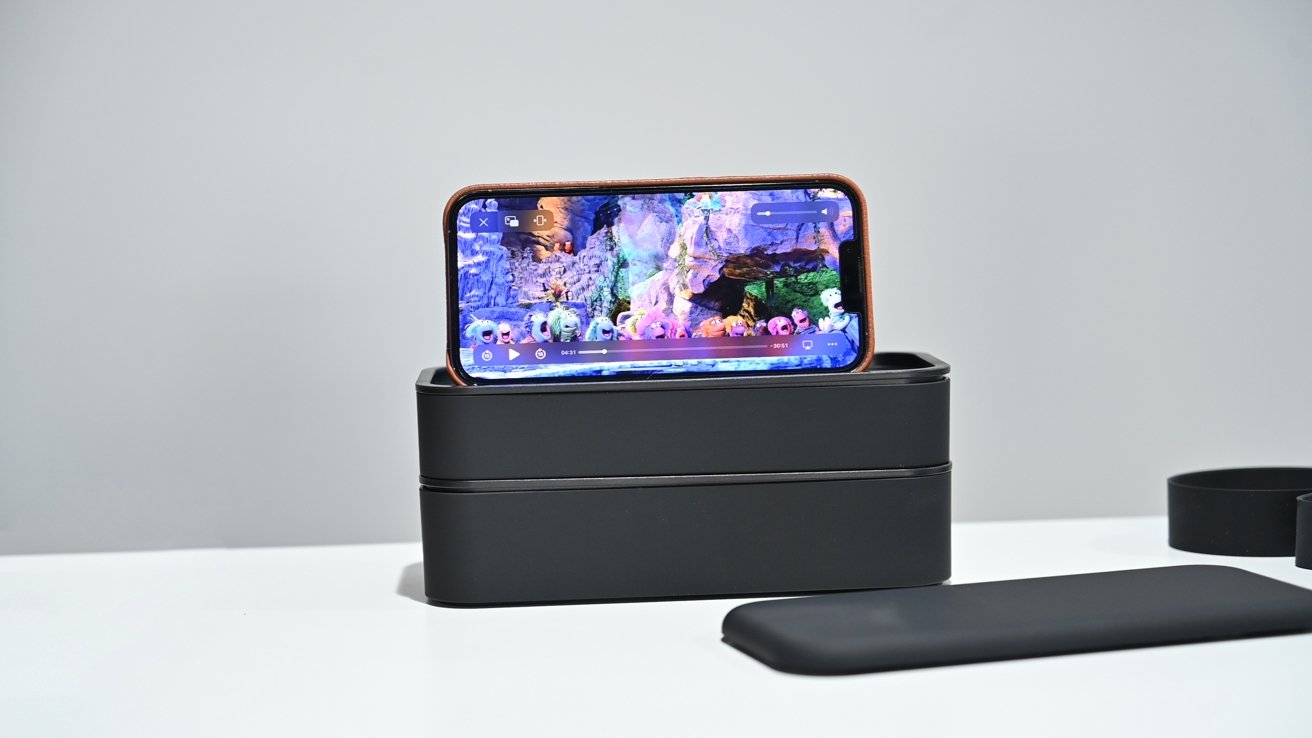 Watching TV on the Function101 BentoStack
Speaking of the top thin piece, this one is new. It has an integrated stand that you can use to prop up your phone. A plastic part pivots up to hold your phone but folds flat when in tow.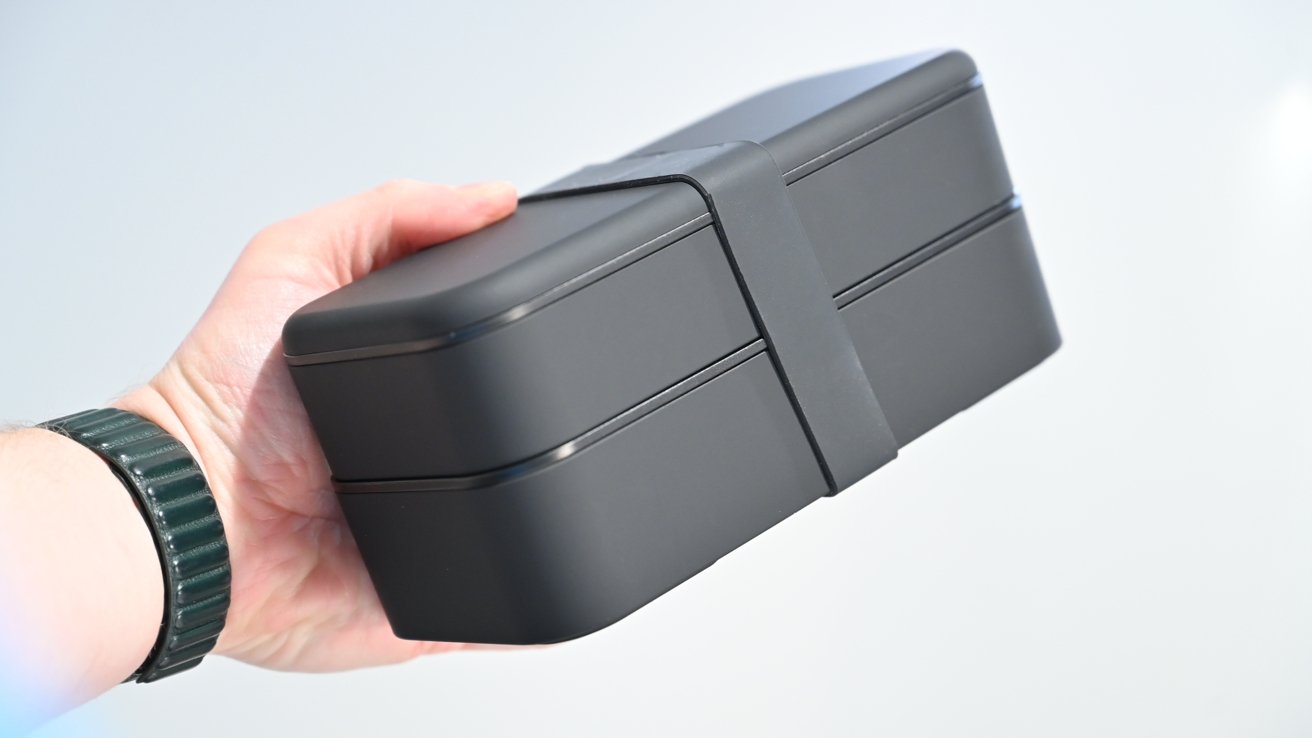 Function101 BentoStack
Many users prefer to have their iPhone propped up while working, and BentoStack provides that for you while on the go, without requiring you to bring a dedicated stand. It's also perfect for crashing and catching up on the first season of Central Park ahead of the season two, part two debut.
Should you buy the Function101 BentoStack?
BentoStack is quite clever. We love that it was designed just for Apple users. Anyone could technically use it, but its dimensions are tailored to Apple accessories. The Mac charger slides in just right. Apple Pencil is just short enough. And, of course, the clips for Apple Watch bands.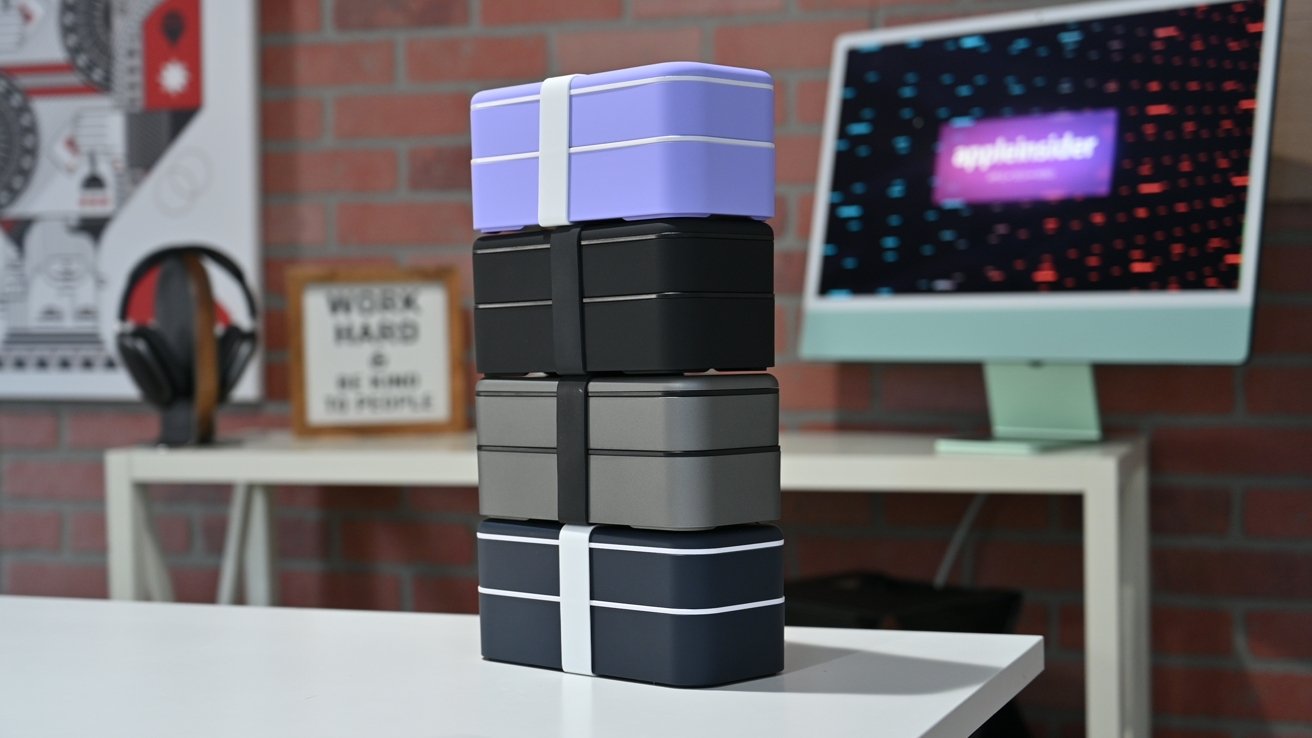 Multiple colors of the Function101 BentoStack
Function101 also lets you pick up a second larger compartment, choose the pencil lid instead, or mix it up with different colors. You can also buy a separate cover with a battery backup or a USB hub if you want to expand the functionality.
There are limitations to the BentoStack, such as not supporting all bands or certain accessories not fitting. Still, it's sure to meet many users' needs between the different models and additional components.
Simple but effective design

Modular system can be tailored to your use case

Multiple color options to choose

Internal separators can slide or be removed
Some of Apple's larger accessories don't fit any longer

Not all Apple Watch bands will fit the clips
Rating: 4 out of 5
Where to buy
Shop for other colors as well as additional inserts on Function101's website.Function101 @BentoStack review: A modular, Japanese-inspired carry-all to store many of your #Apple accessories.
Source link