AppleInsider is supported by its audience and may earn commission as an Amazon Associate and affiliate partner on qualifying purchases. These affiliate partnerships do not influence our editorial content.

An all-in-one printer is a one-stop-shop solution for all of your printing, scanning, and sometimes faxing needs. Here are the best choices for all-in-one printers based on how well they will work with your Apple devices.
From the fanciest specifications to the best overall value, this list contains the best all-in-one printers you can buy today.
Epson EcoTank Pro ET-5800
Epson's EcoTank is the highest-resolution printer on our list.
The Epson EcoTank Pro has high-resolution capability for up to 4800 x 2400 dots per inch for ultra-sharp images. The rapid inkjet printer prints up to 25 black-and-white pages, or 12 color pages, per minute.
An 8.5-by-14-inch scan surface is paired with a 1200 dpi resolution and 48-bit color. It can output to the cloud, to a USB flash drive, and to enterprise email. A 50-page document feeder is also installed.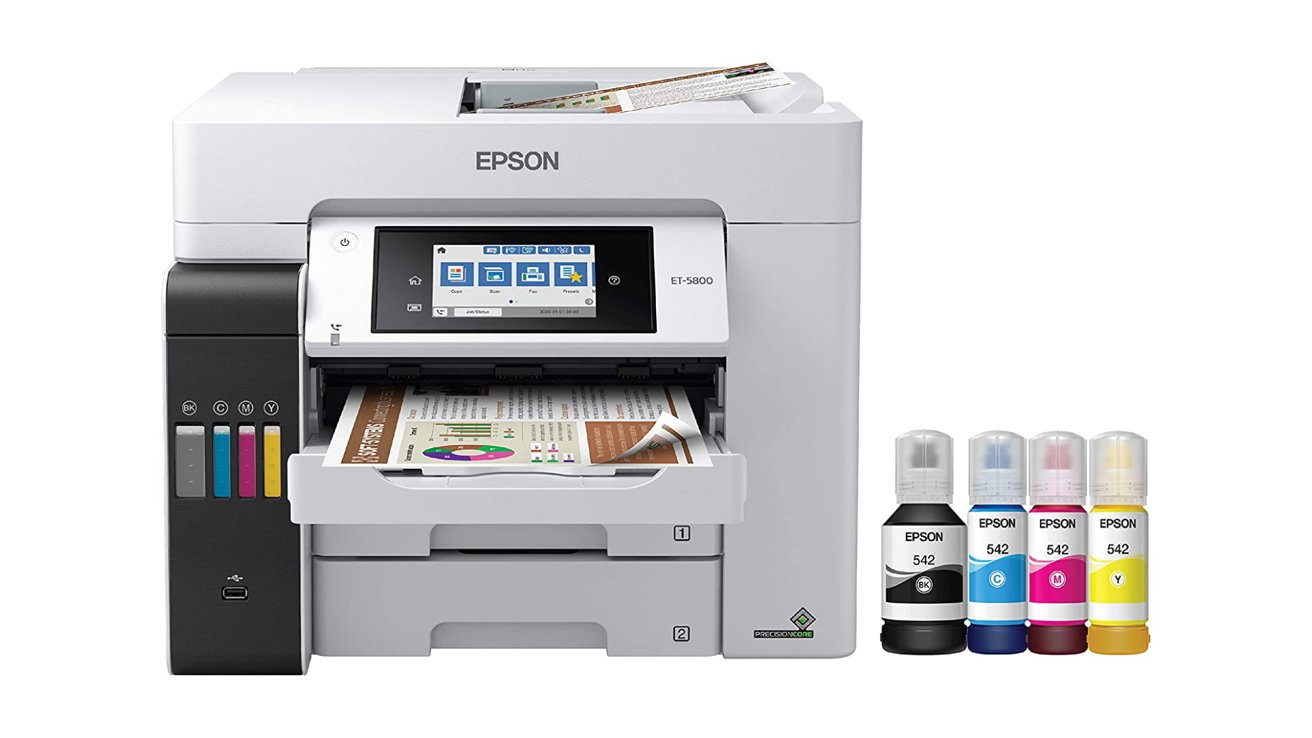 A female USB 3.0 Type-A port is present on the device for document retrieval. It also supports Wi-Fi, Bluetooth, 100 Mbps-speed Ethernet printing, as well as jobs from Epson's Connect and iPrint apps.
The large page yield prints up to 7500 pages per cartridge to ensure minimal waste, while the large paper carriages hold up to 450 sheets at once.
A 4.3-inch touchscreen allows for complete print job control straight from the printer, while AirPrint compatibility enables the user to easily print from iPhone or iPad. The Epson Connect app allows non-AirPrint devices to also print from the machine.
Canon MAXIFY MegaTank GX7021
This Canon printer has the highest page yield out of all the printers on our list.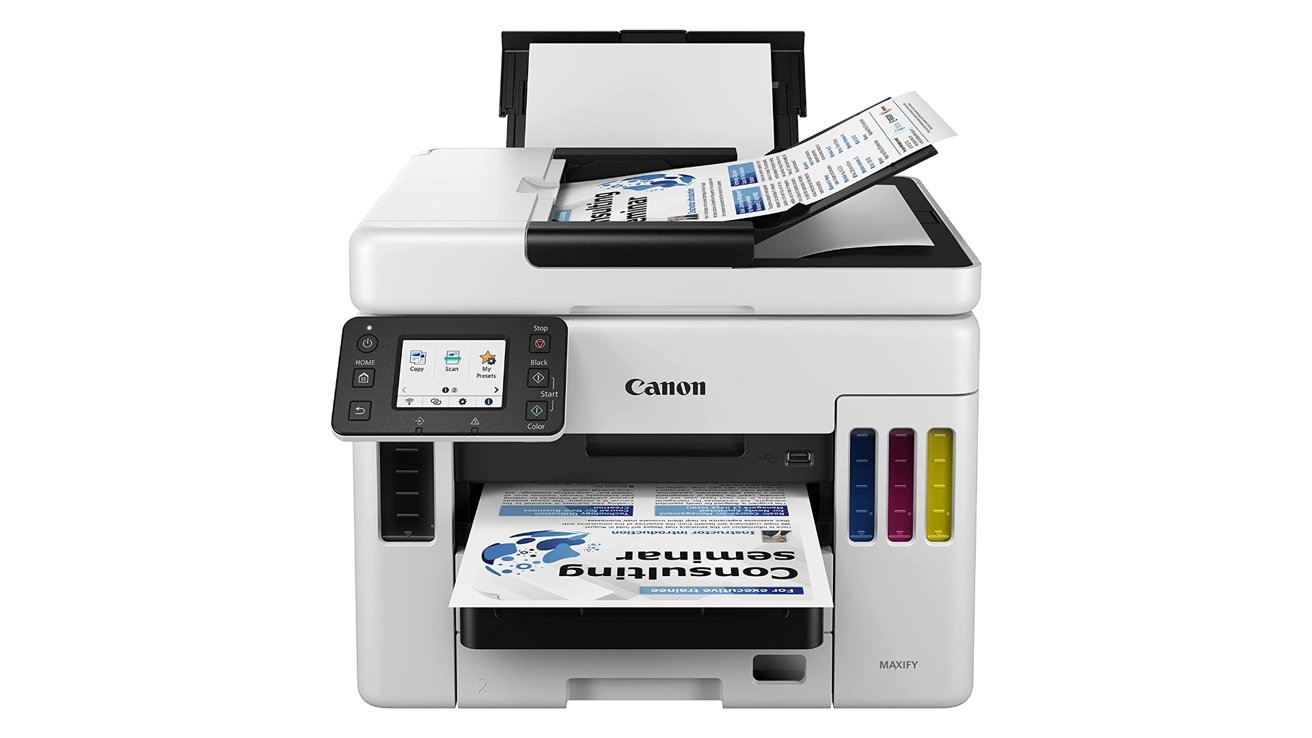 A single set of ink cartridges enables the MAXIFY MegaTank to print up to 14,000 color pages, or 6000 black-and-white pages. The printer's large paper reservoirs hold up to 600 sheets.
The printer also works fast, and can print up to 24 sheets per minute. It can also print up to 1200 x 600 dots.
A 1200-dpi scanner is paired with a 8.5-by-14-inch surface to utilize the Contact Image Sensor to its full potential. It supports saving out to PC, importing as an attachment to email, multi-page PDF exports, as well as the standard rescan and rotate options. It scans in 16-bit color.
A USB 3.0 port enables high-speed document imports from external drives. It also has Wi-Fi and ethernet-interface wireless LAN network options to get files.
A 2.7-inch touchscreen alongside a USB port makes it easy to get the ideal print job done. The printer also comes with a full set of GI-26 ink bottles, and is easy to refill when it finally runs dry.
HP Smart Tank Plus 551
Out of the box, this HP printer provides hassle-free setup and reliable printing with incredible value and tons of free ink.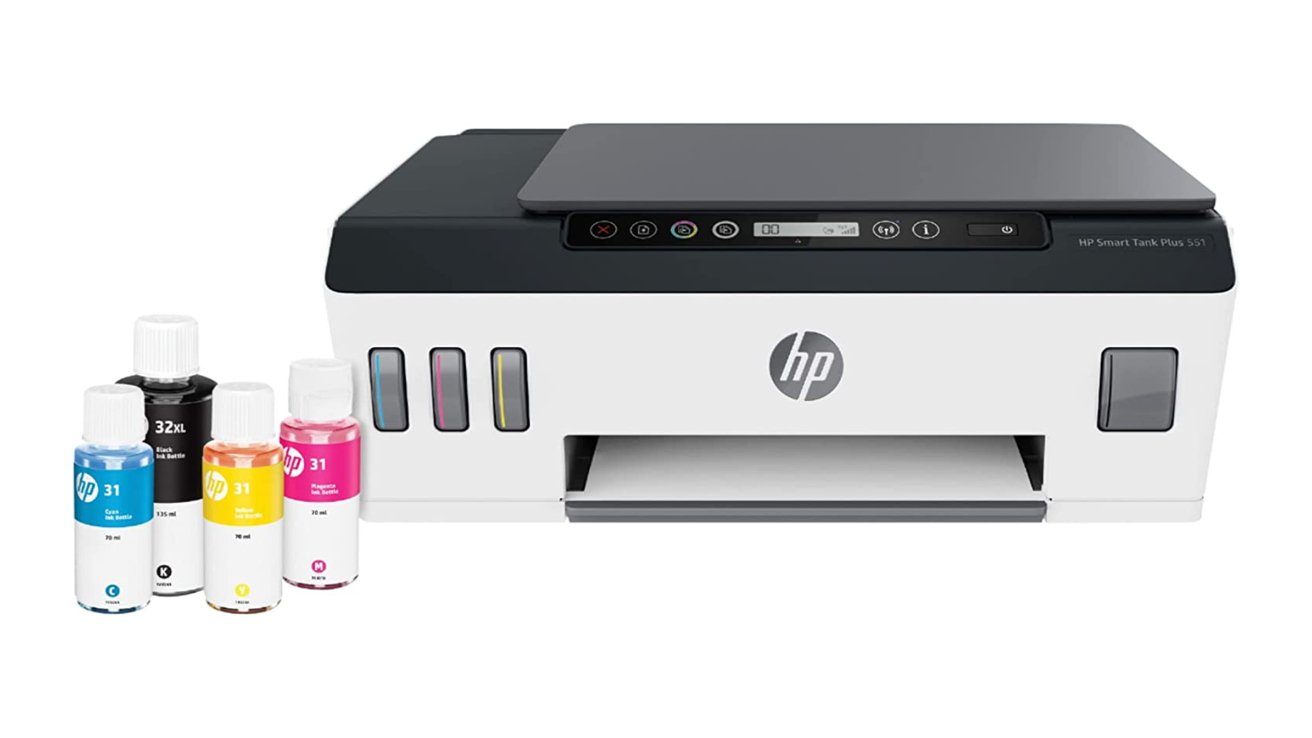 Featuring an up to 8000-page capacity, the Smart Tank Plus connects to external file storage solutions like Dropbox and Google Drive for easy hard-copy creation.
A 1200-dpi scanner supports 256 shades of gray and 24-bit color. A smaller 8.5-by-11.69-inch surface scans up to three sheets in color, or five in back-and-white, per minute.
It has a USB 2.0 port for file transfer, with Wi-Fi and Bluetooth LE capabilities built-in to connect to external drives within local networks.
The printer's dual-band Wi-Fi antenna makes Internet-based printing lightning-fast. The HP Smart app handles other print jobs right from a smartphone.
Brother MFC-L8900CDW Color Laser All-In-One
This enterprise-focused solution prioritizes print speed and paper capacity for high levels of office productivity.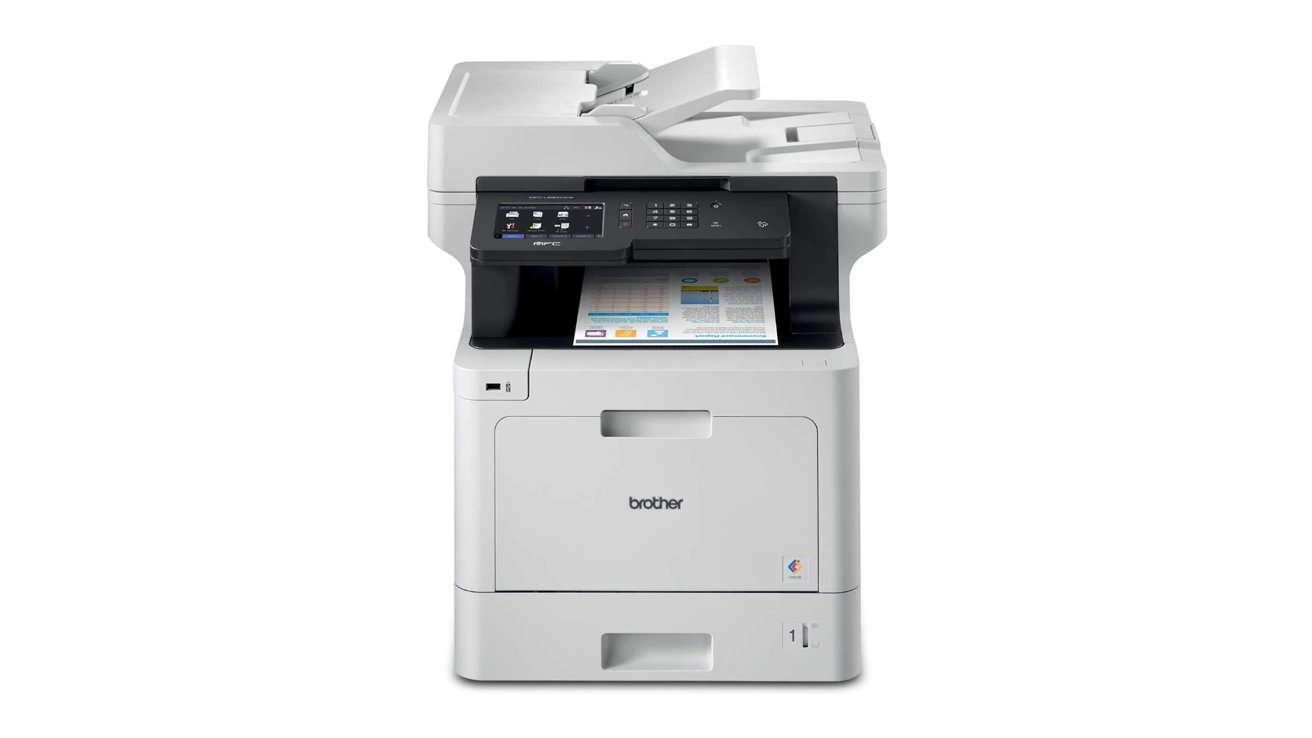 At 33 pages per minute, or 58 images per minute for double-sided jobs, it is one of the highest-speed printers available for general sale. Up to 1300 sheets of paper can be kept in the printer's vast paper trays for large-volume workdays.
The scanner features a 48-bit color specification, the best among the list. It supports up to 19,200 dpi when scans in interpolated mode, or up to an astounding 2400 dpi from the scanner glass itself. The scanning surface is 8.27 inches wide.
A USB 2.0 port is located at the front for file transfer. It is paired with LAN ports, both as physical Ethernet ports and as wireless connections. There's also an NFC reader for further convenience.
Brother's iPrint&Scan app makes it easy to scan documents to an iPhone or Android device, while the feeder automates the process for up to 70 pages, all on a large glass surface that accommodates legal-size sheets.
Advanced security features and wireless connectivity make the device more cost- and functionality-effective. Finally, all the advanced features of this Brother printer can be controlled through its built-in, 5-inch display.
Brother's MFC-L8900CDW Color Laser All-In-One is available to order for $649.99 at Office Depot, with Dash restocking available for its ink cartridges.
Xerox WorkCentre 6515
This Xerox printer takes the conventional printing and scanning, and adds some nice quality-of-life features that is unlike the other printers on our list.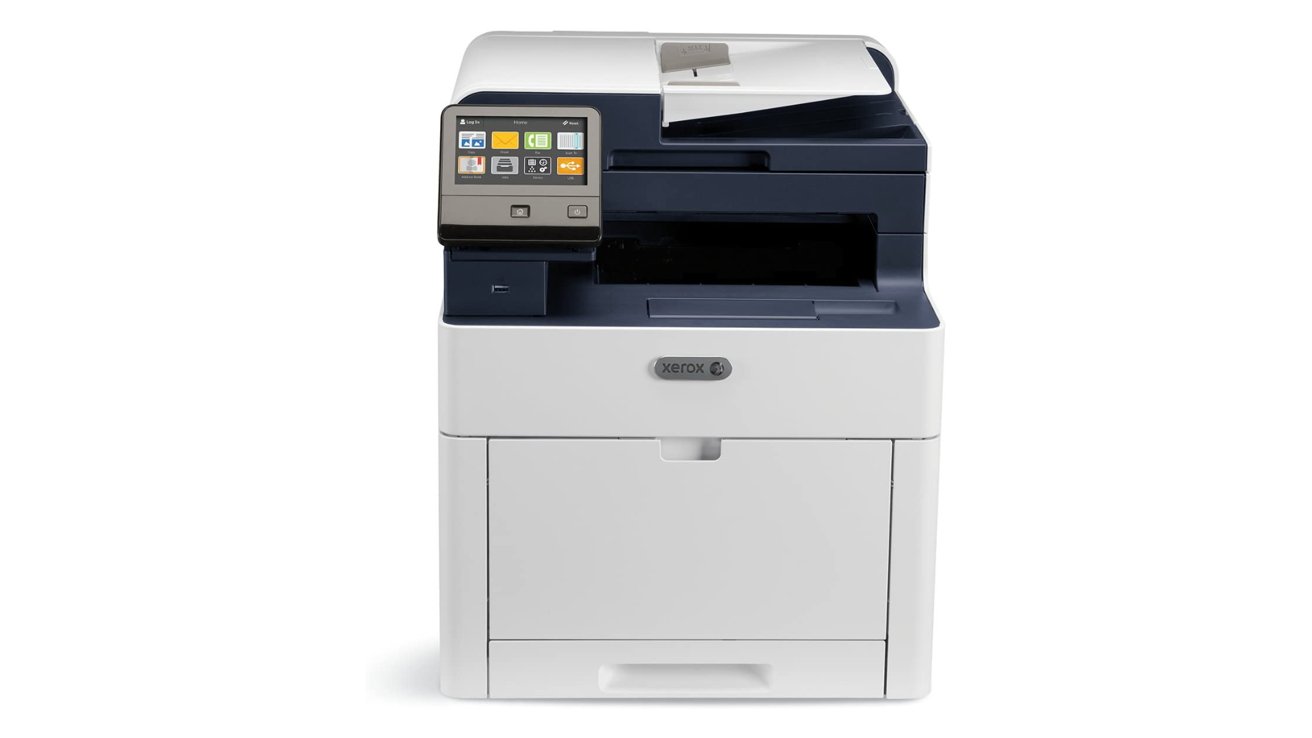 A 1200 x 2400 dpi print resolution is the second-highest among our list of printers, while a 30 page-per-minute speed is merely few sheets behind our top-of-the-line business recommendation.
Perhaps its most remarkable feature is the copy function. Not only featuring a large 8.5-by-11.7-inch scanning surface, but it has an ultra resolution of 600 dpi. Text recognition allows the user to search text from within the scanned documents on the desktop.
A color touchscreen and USB 3 Type-A port at the front allow users to easily print from an external storage medium, or to offload scanned sheets as digitized copies. There's also a physical gigabit Ethernet port for fast file transfer. It also supports Apple's AirPrint, Google Cloud Print, Xerox's Mobile Link app, as well as an optional Wi-Fi Direct setup kit to directly forward documents.
Source link