74.2 million smartphones were shipped in China in the first three months of 2022, down 14% compared to the same period last year. These levels are similar to the worst that the market saw during the pandemic, indeed the new wave and related lockdowns had a negative effect.
vivo edged out sibling Oppo to regain its #1 spot in the market, even though it declined to 19.7% market share. The selfie-focused vivo S12 and S12 Pro mid-rangers and the affordable Y-series phones (e.g. Y76s, Y31s) are credited for the company's strong performance by the analysts at Counterpoint Research.
Oppo was affected worse than vivo and its share slipped to 18%, putting it in second place, just ahead of Apple, which rose to 17.9%. The iPhone 13 was the best-selling phone in China for the quarter, even though demand for the 13 series cooled off after launch. Apple is one of the biggest beneficiaries of Huawei's downfall.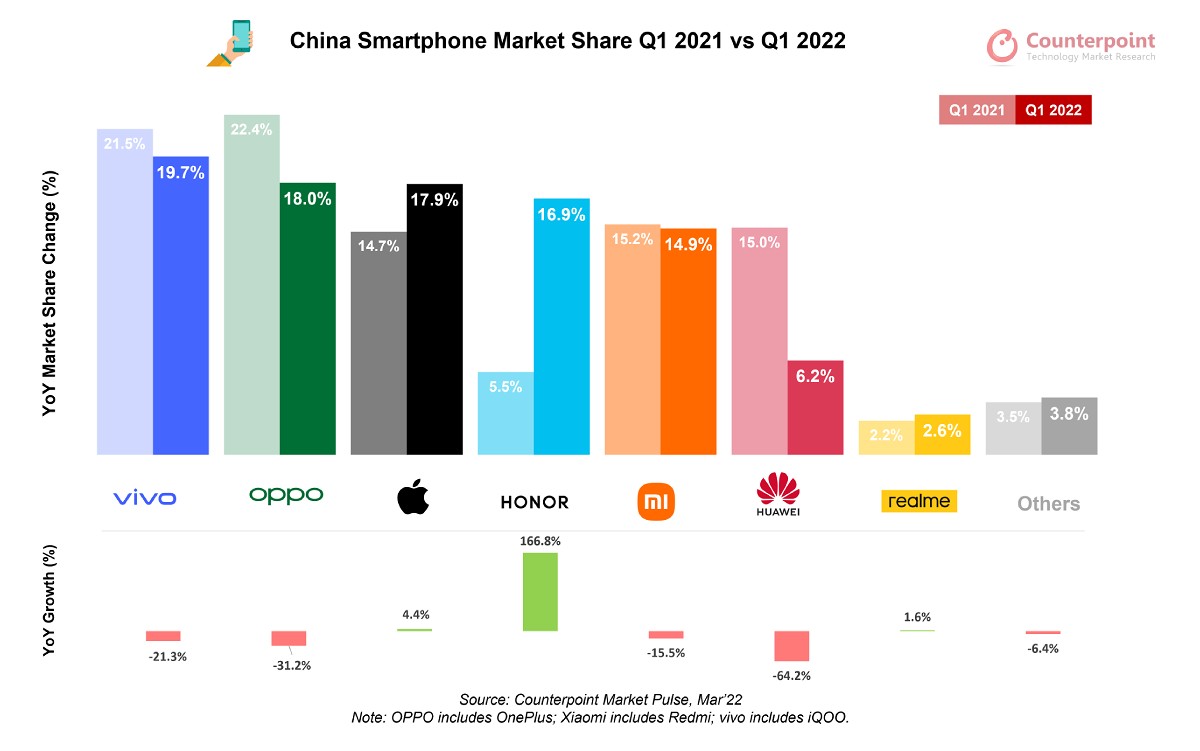 It didn't gain as much as Honor, though, which shot up from a lowly 5% share to 17% share. The popularity of the Honor 60, 60 Pro and 60 SE helped the company grow not only year over year, but also compared to Q4 2021 (when it sat at 16.7% share). Huawei tumbled from 15% to 6.2%.
Apple's and Honor's growth have moved them ahead of Xiaomi in 5th. The analysts still recorded strong demand for the Redmi K40 series and the Redmi Note 11 series, the cheap Redmi 9A proved popular as well. March brought the Redmi K50 series and the Redmi 10A, which are expected to do well for Xiaomi as well.
Counterpoint reports that the premium foldable devices made up less than 1% of smartphones sold in China in Q1. Limited supply of foldable display panels kept prices high, which didn't help the situation.
Source
Source link