AppleInsider is supported by its audience and may earn commission as an Amazon Associate and affiliate partner on qualifying purchases. These affiliate partnerships do not influence our editorial content.

Apple has reported record-breaking results for the March quarter. Here's how the company's Q2 2022 stacks up versus the company's previous quarters and years.
The iPhone maker's performance during the March quarter marked its best Q2 yet." Apple CEO Tim Cook said that the period serves as a "testament to Apple's relentless focus on innovation and our ability to create the best products and services in the world."
Apple reported quarterly reverie of $97.3 billion, beating out Wall Street's consensus expectations of $94 billion. That is also despite ongoing supply shortages and a shift in consumer behavior as pandemic-era restrictions ease in many locations.
Here's what the quarter looks like in numbers compared to previous earnings results.
Revenue and Net Profit
Apple reported revenue of $97.3 billion in Q2 2022, up 9% year-over-year. The figure eclipsed Wall Street's forecast by about $3.3 billion.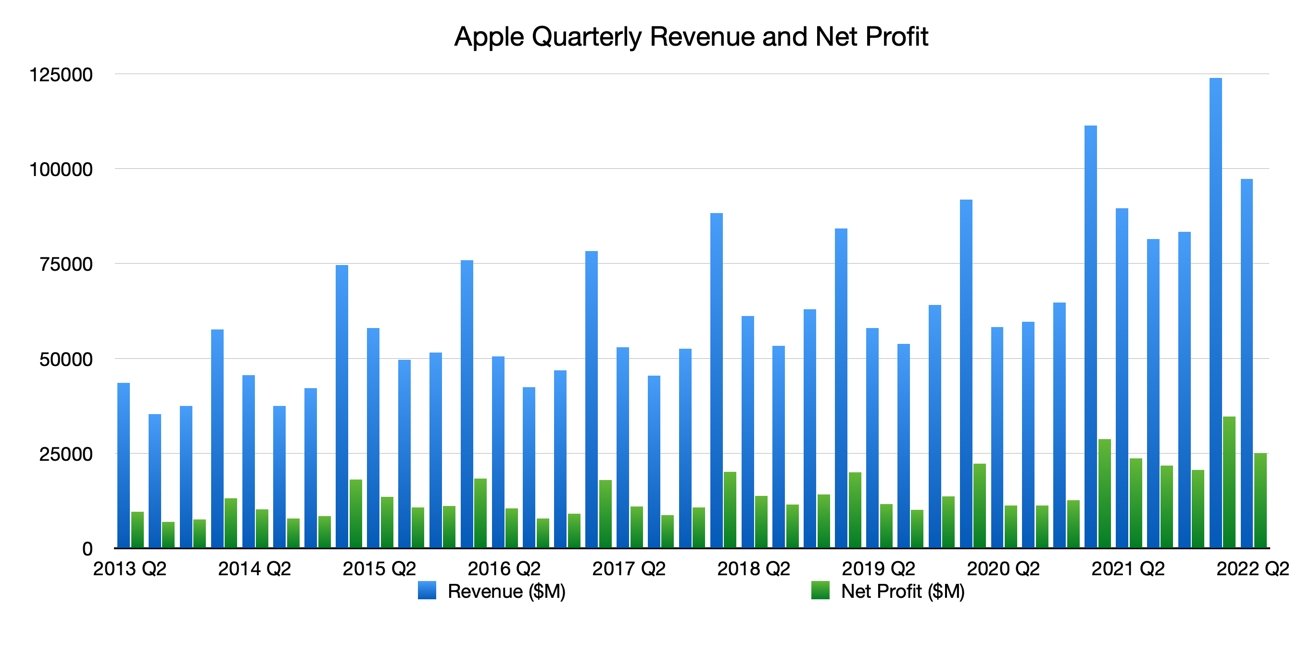 Apple quarterly revenue and net profit.
The company's net profit of $25 billion also beat out the $23.6 billion it reported in the year-ago quarter.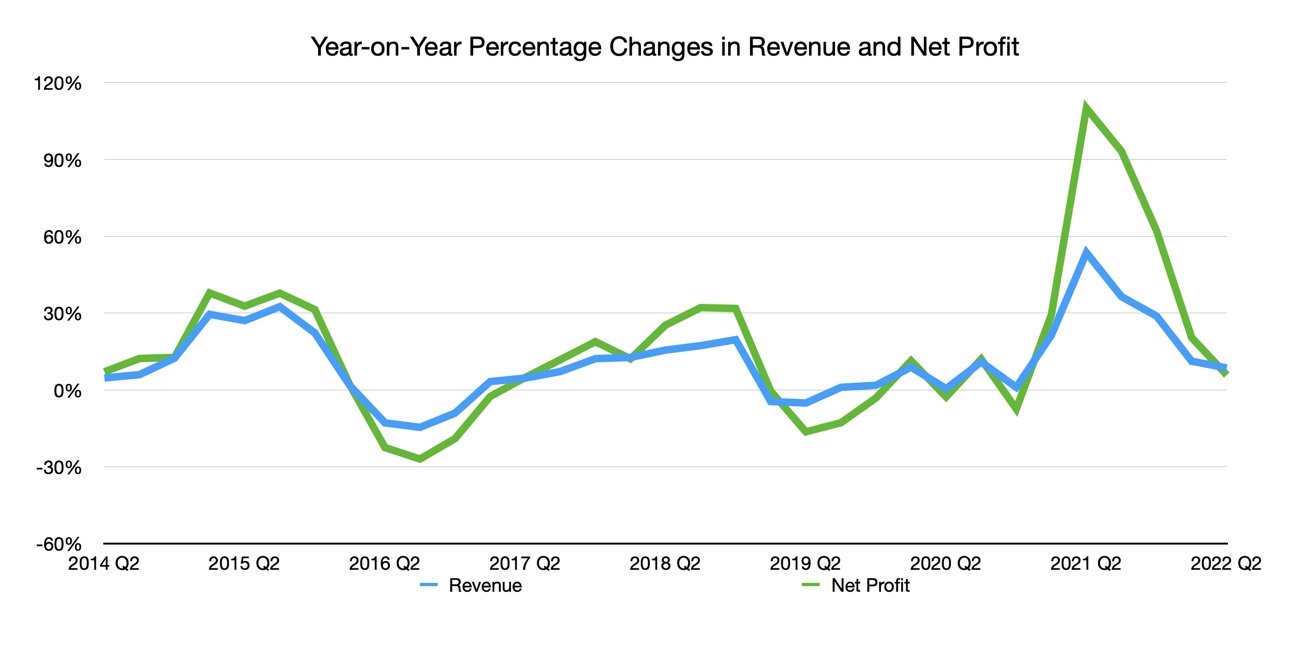 Year-on-year change in Apple revenue and net profit
Apple's earnings-per-share reached $1.52 in the March quarter of 2022, up from $1.40 in the previous year's second quarter.
Gross Margin
Apple's gross margin, which refers to the net sales minus the cost of goods sold, reached 43.7% in Q2 2022. Gross margins are generally a good sign of profitability.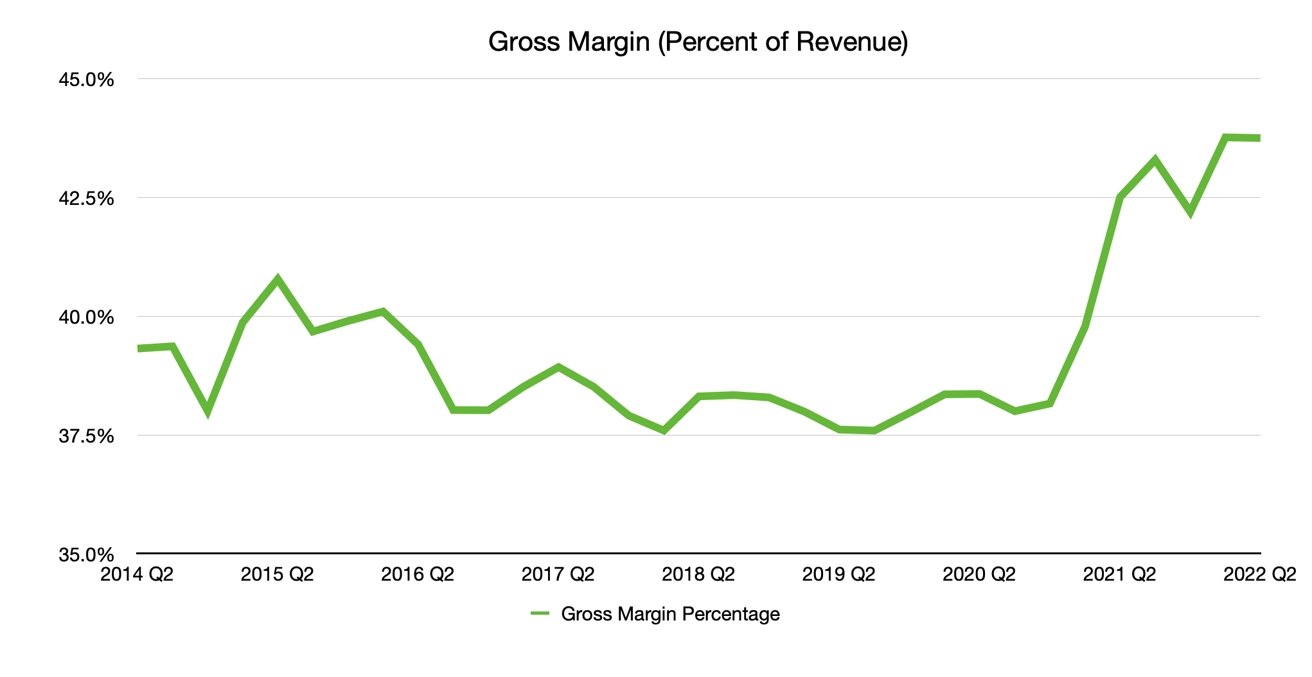 Apple's gross margin percentage
The gross margin is only slightly down from the 43.76% Apple reported in its Q1 2022. That margin was among the highest that Apple has seen in recent years.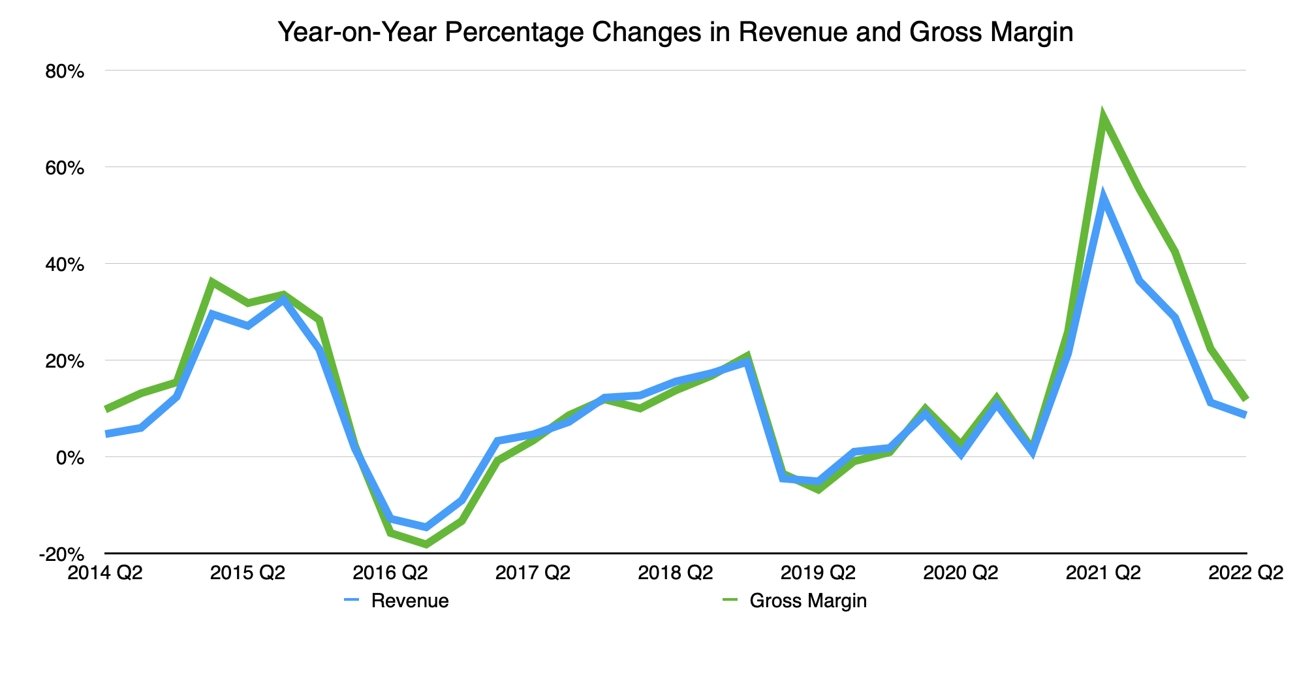 Year-on-year change in Apple revenue and gross margin
Gross margin generally follows Apple's revenue quite closely, but it is pretty easy to see in the YoY changes that Apple's increased it over the last few quarters.
Products
Apple's iPhone remained its top revenue driver during Q2 2022. The Cupertino tech giant reported $50.6 billion in iPhone revenue during the March quarter.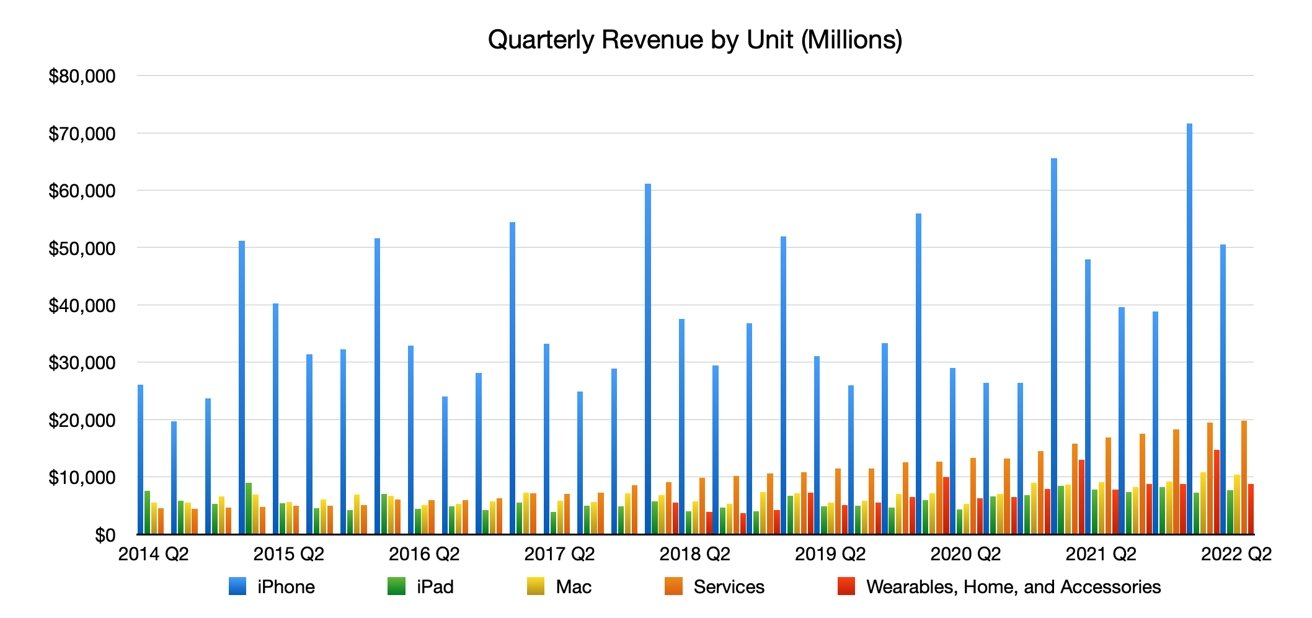 Apple quarterly revenue by unit
Although iPhone revenue is technically down from the prior quarter, that's largely because of seasonality. Many other product segments remained flat, while Services continued it steady climb.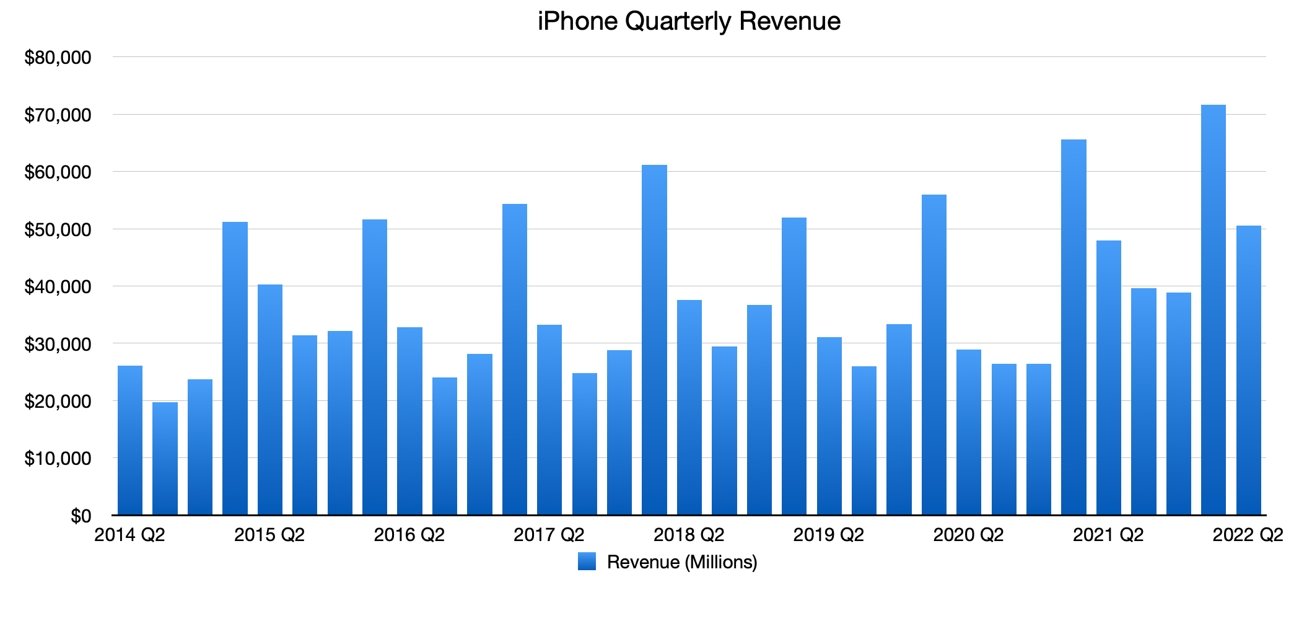 iPhone quarterly revenue
Apple's iPhone broke records during the quarter despite the lack of a flagship launch. The company did unveil a new iPhone SE, but many analysts believe that model isn't selling as well as the company's iPhone 13 series — which is still going strong months after launch.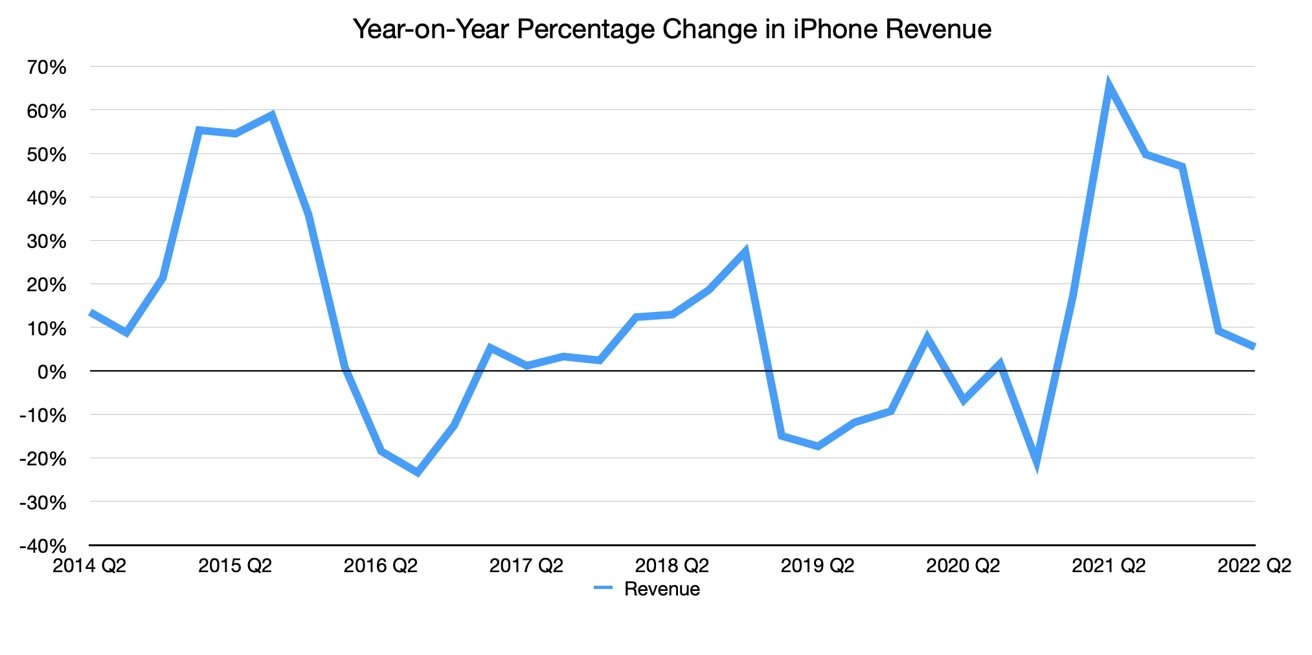 Year-on-year change in iPhone revenue
Compared to past years, Apple's iPhone revenue reached its highest number ever for a March quarter.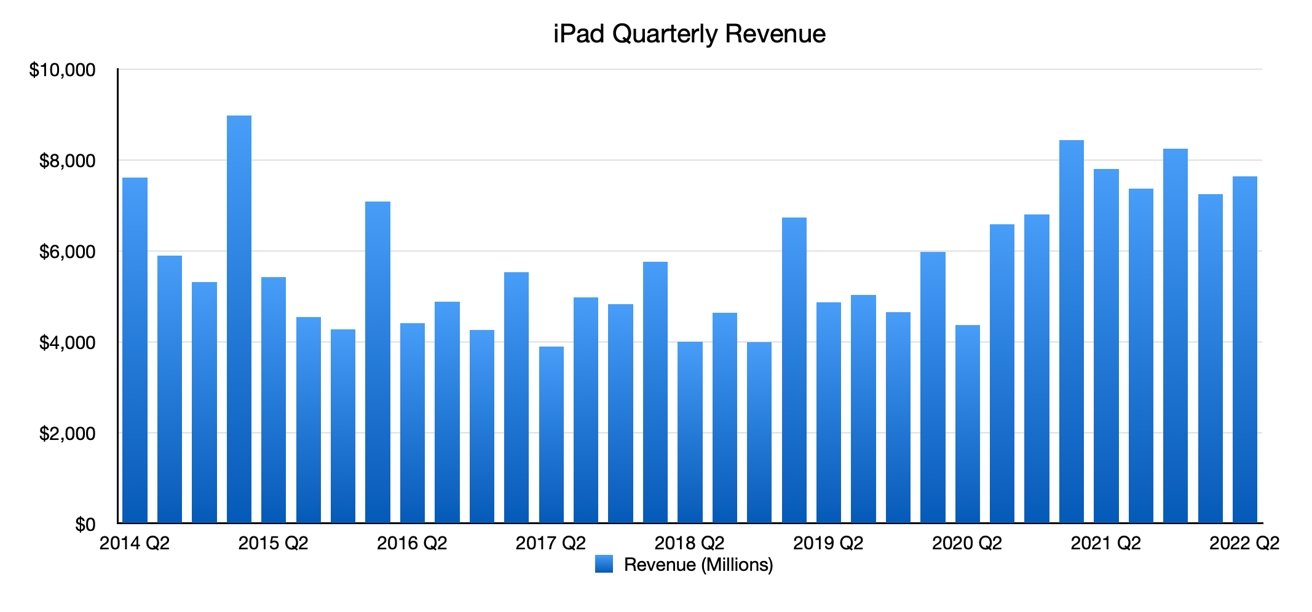 iPad quarterly revenue
Apple reported iPad revenue of $7.6 billion, down slightly from $7.8 billion in Q2 2021. That continues a trend set during the first quarter of 2022, in which the iPad saw a decline in revenue. Apple says the tablet is supply constrained, which could explain the drop in sales.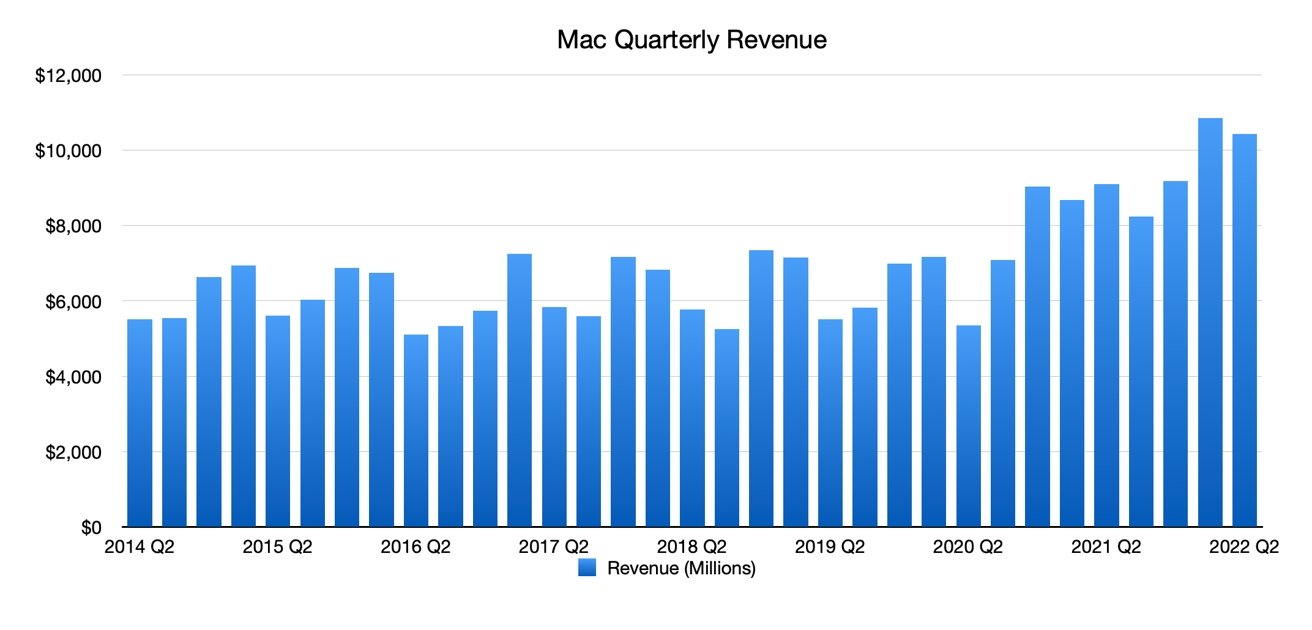 Mac quarterly revenue
Apple's Mac revenues during the March quarter hit $10.4 billion, up from $9.1 billion in the year-ago quarter. The quarter marked the first full fiscal period of sales for the 14-inch MacBook Pro and 16-inch MacBook Pro. Apple also released a new Mac Studio in Q2 2022.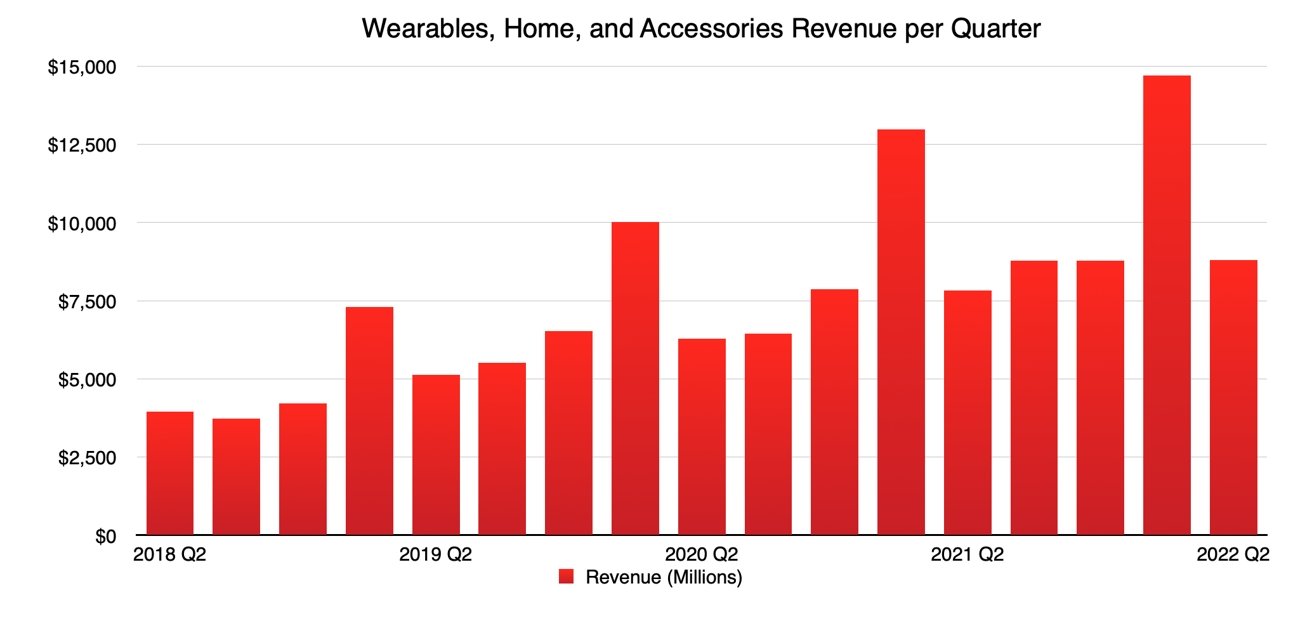 Wearables, Home, and Accessories revenue
Apple's Wearables, Home, and Accessories unit is continuing its climb with $8.8 billon in revenue during Q2 2022 — a rise from the $7.8 billion in Q2 2021. As with its MacBook Pro models, Q2 2022 was the first full quarter of availability for Apple's third-generation AirPods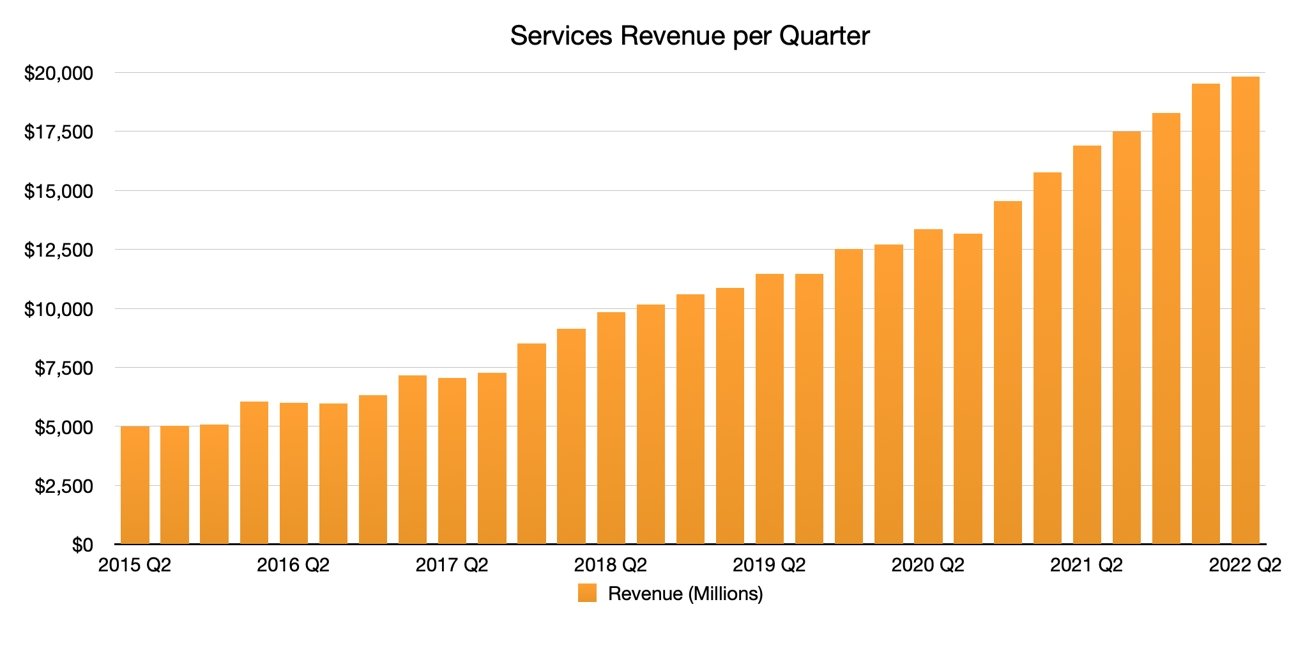 Services quarterly revenue
Services is also showing no signs of slowing. The segment has seen quarter after quarter of continuing growth, and Q2 2022 is no different. Apple reported Services revenue of $19.8 billion during the quarter, up significantly from the $16.9 billion in the year-ago period.
Operating Segments
On a territorial basis, Apple's revenue gains are spread out across the globe, though with one exception.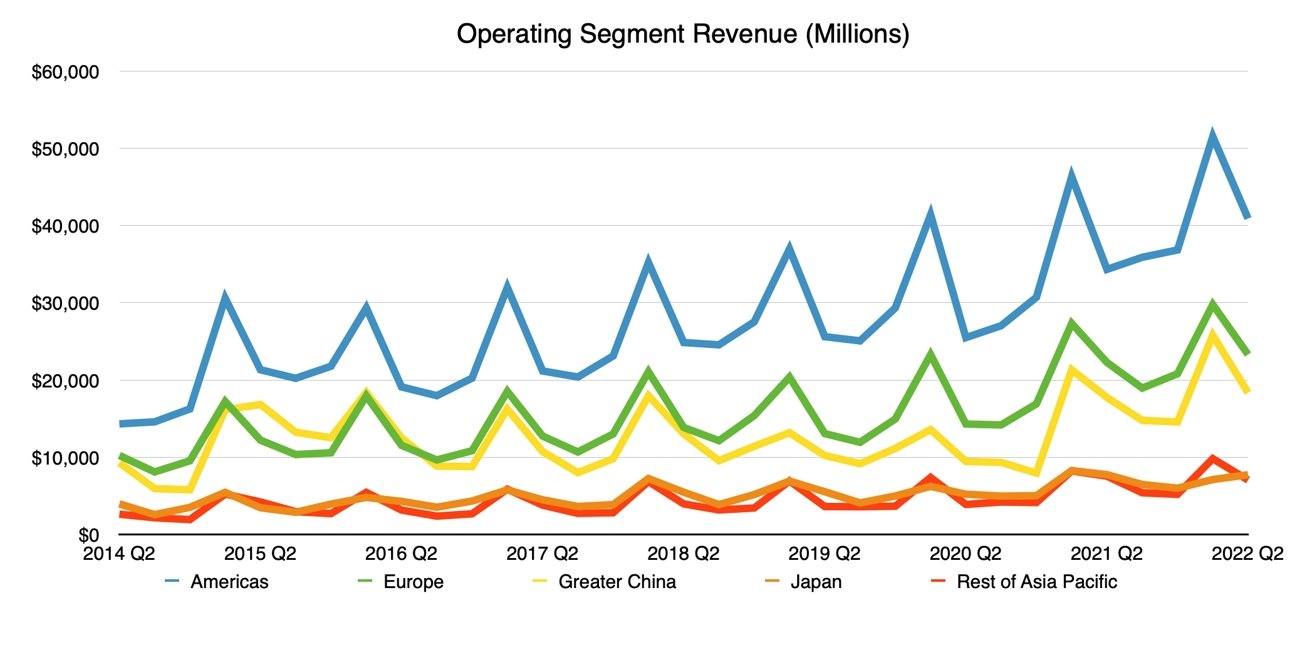 Revenue by operating segment
The operating segments lined up with historical performance, with pretty much all regions seeing a seasonal decline in revenue. The America's remained Apple's largest source of revenue, with Europe in second place and China in third. Japan actually ranked fourth in the quarter, ahead of the Rest of Asia Pacific.
As with the previous quarter, the previous outlier here is Japan. In Q1 2022, Japan was the only operating segment to see a decline. In Q2 2022, it was the only segment to actually see a rise in revenue. It's a slight rise, but a rise nonetheless.
Source link