Battery charging is one of the few remaining segments in the smartphone world where proprietary technologies can thrive. Most companies use chipsets from the same suppliers, they buy the same screens and camera sensors too. But the batteries and accompanying hardware is sometimes fully custom and has been a field of fast-paced innovation in the last few years.
Okay, USB Power Delivery exists, some might say it's the best option because of its wide support. The same argument can be made for Qi on the wireless charging front. But right now proprietary systems allow for higher speeds and are used on some standout devices.


A simplified schematic of how fast charging systems do what they do
This week we wanted to look at how battery and charging tech evolved over the last decade, and we will focus on Xiaomi. We will be looking at averages for the most part, but we have also included maximum values as they tell an interesting story as well.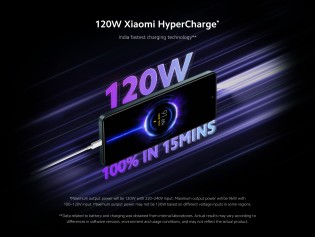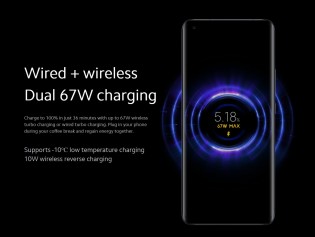 Xiaomi's best: 120W wired fast charging • 67W wireless charging
We often hear people say "give me a big battery, even if the phone is thick". For better or for worse, neither Xiaomi nor other smartphone makers seem to agree with that sentiment. As you can see, the average thickness of Xiaomi phones fell steadily for a while, then stabilized around 9mm. However, the average battery capacity still went up over time thanks to technology improvement.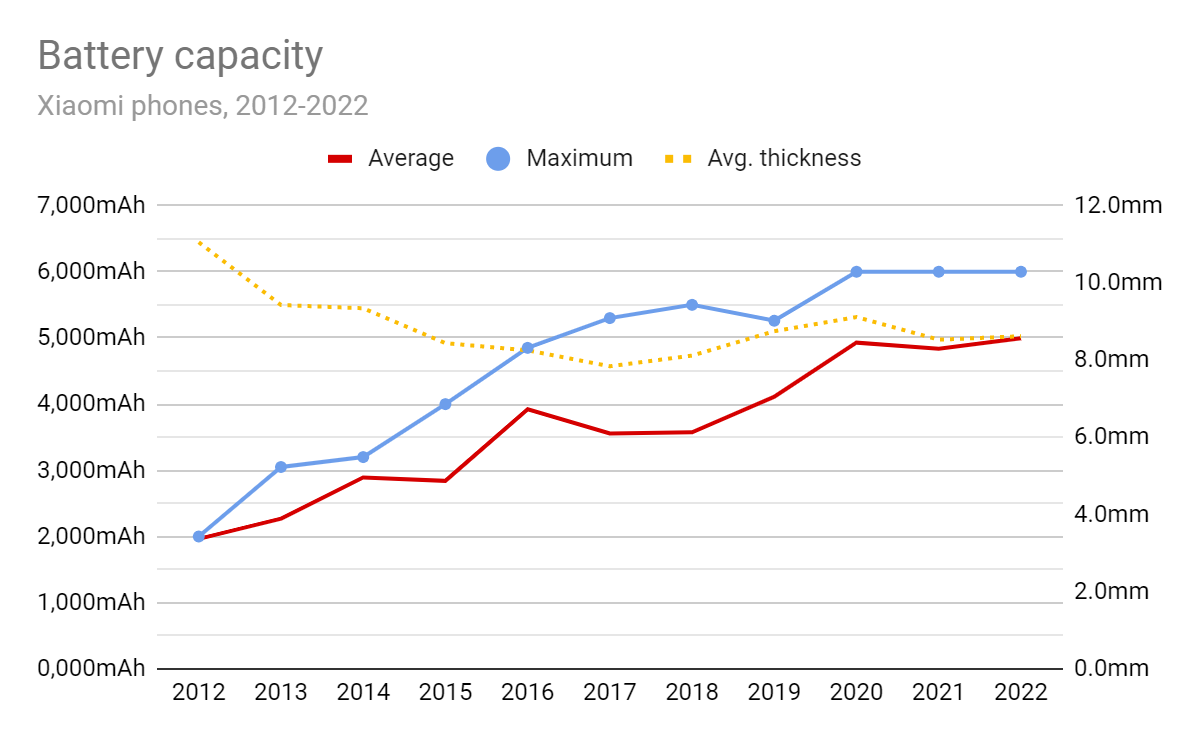 Those ever larger batteries would require more and more time to charge at the USB baseline of 10W, so something had to change. The first fast-charging phone from Xiaomi was the Mi 3 (2013), which leveraged Qualcomm's Quick Charge 2.0 to do 18W. In fact, Xiaomi used QC for many of its phones. For example, the Mi 9 Pro (2019) featured QC 4+ and did 40W wired and 30W wireless charging.
But Quick Charge couldn't keep up and the Xiaomi phones with the highest charge ratings have switched over to a proprietary solution. As we mentioned in the opening, it's one of the areas where companies can stand out with in-house tech, e.g. the Surge P1 charging chip.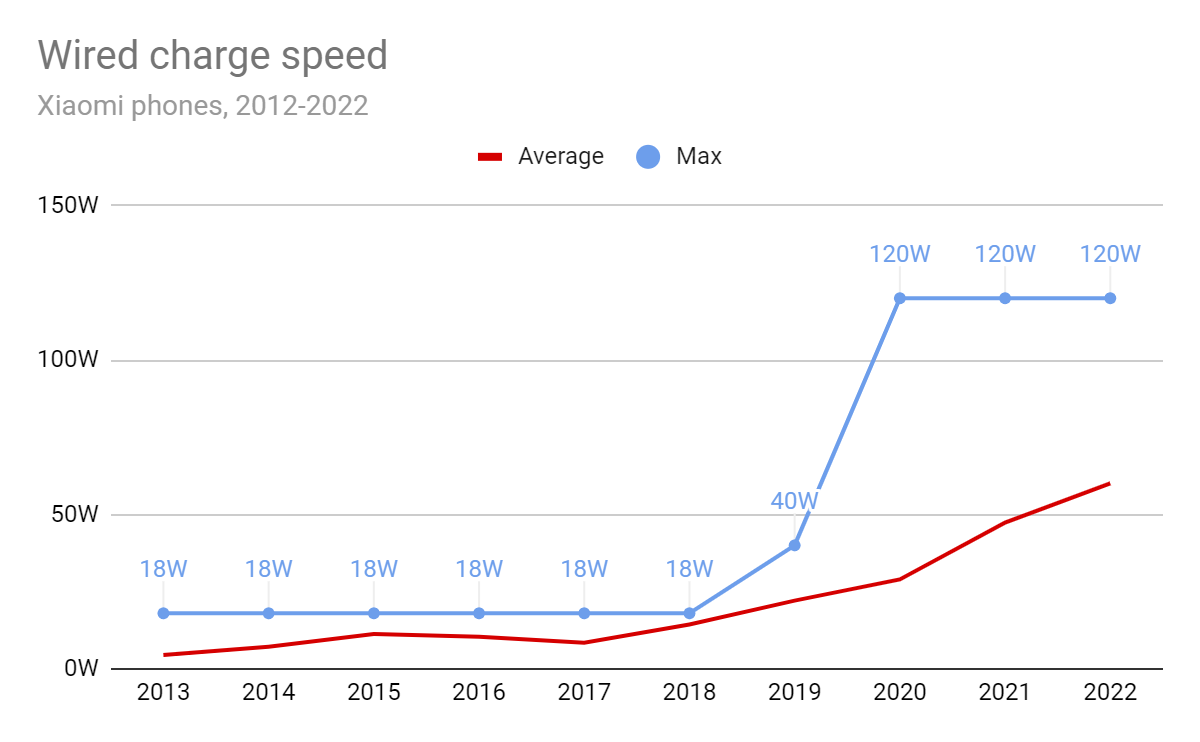 Battery capacities didn't grow indefinitely. A few years ago Xiaomi had a Mi Max series, which had large displays and large batteries. The second model had a 6.44" display and a 5,300mAh battery. The third one went up to 6.9" and 5,500mAh. But those weren't the largest batteries from the company, no. Instead, phones like the affordable and not too huge Poco M3 pack 6,000mAh batteries (the M3 measures 162.3×77.3×9.6mm and weighs 198g). 6,000mAh is as high as Xiaomi has ever gotten.
A few interesting things we noticed while digging through the data. The Mi Mix 2S from 2018 was the first Xiaomi to support wireless charging, it was rated at 7.5W. The company also released its first official Qi charger with the phone. The Mi Mix 3 from the same year went a little faster with 10W support.
And it took off from there – 30W in 2019, then 50W, then 67W, then… nothing. At least not yet. But we're half way through the year and Xiaomi is yet to release a new phone that supports wireless charging.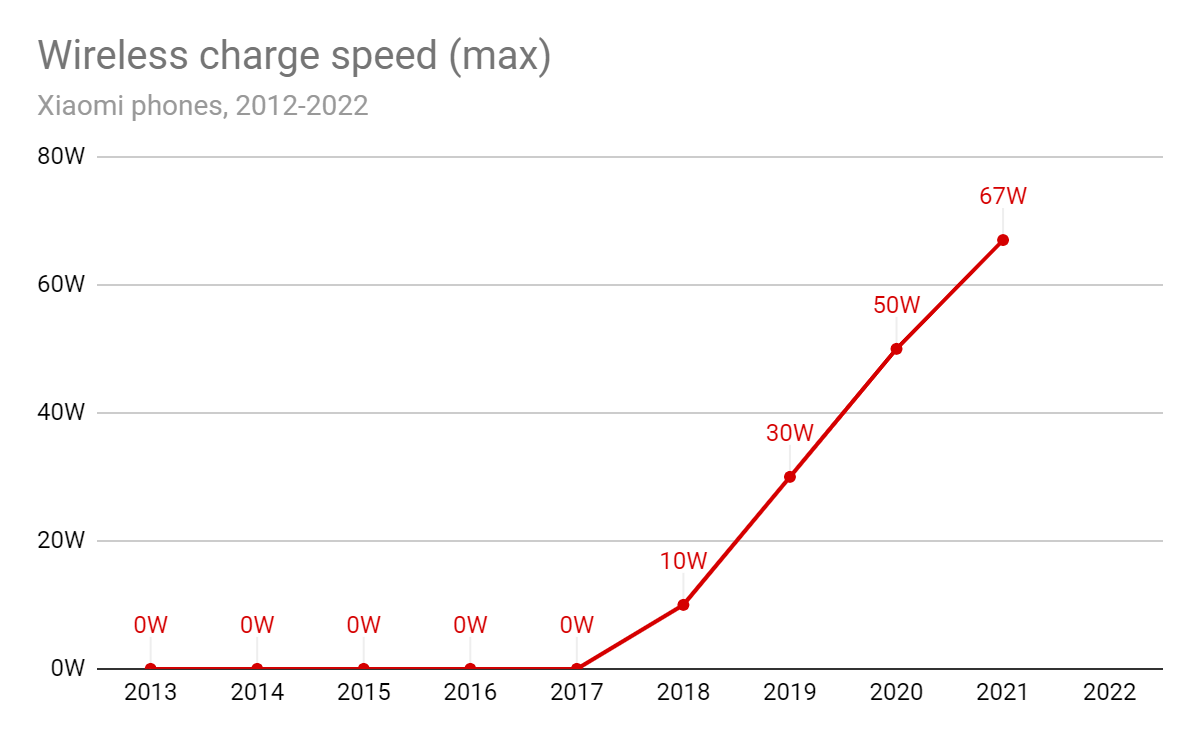 What happened? The Mi 11 Ultra brought parity between wired and wireless charging – both rated at 67W. Of course, wired charging is more efficient, but not as much as you might think. Comparing wired vs. wireless, the 0-100% charge times are 36 minutes and 39 minutes.
Even so, the company's focus seems to have shifted towards wired charging. Phones like the Xiaomi 11i HyperCharge 5G only exist to give users the option of super fast 120W charging – a full 0-100% charge was completed in 16 minutes in our test. 22 minutes if you disabled Boost mode to go easy on the battery. Meanwhile, only a handful of models released in the last couple of years support 50W wireless charging or higher.
How fast can charging technology go? As far as the USB-C cable is concerned, there is a lot of headroom. The latest USB Power Delivery specification offers a whopping 240W. Xiaomi itself was showing off a 200W charger a year ago. And it has an 80W wireless charger. We expect to see charge rates continue to climb for at least a few more years, the average charge rate, especially.
Source link