The upcoming vivo X80 family has been leaking left and right lately. Though mostly offering alleged specs details on the X80, X80 Pro and X80 Pro+ trio, we expect to launch later this month. We have had almost no actual sightings of these devices, though, and just a few hints at their design, like the recent singular image of the vivo X80 published on the Google Play Console.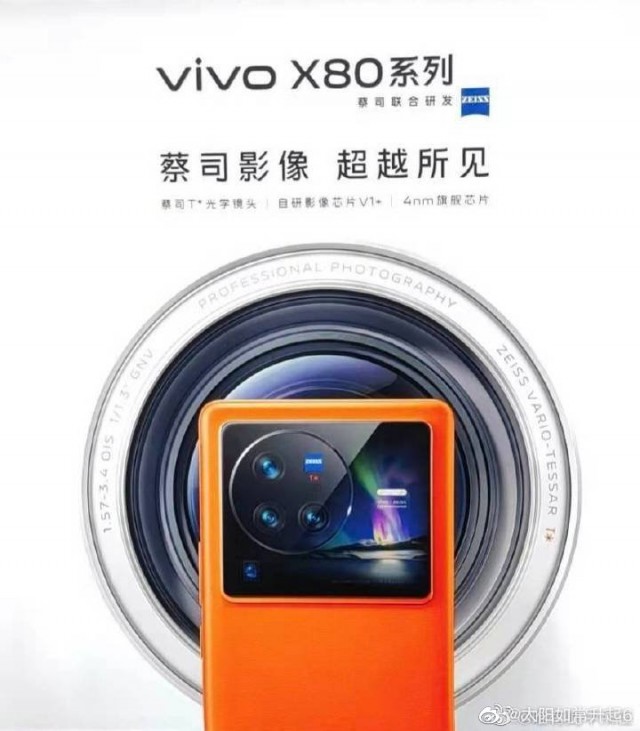 vivo X80 series leaked poster
Today brings a rather blurry but very official-looking photo of what appears to be a banner for the vivo x80 series. Particularly one focusing on the camera prowess of the upcoming phones. Logic dictates that the device actually pictured on the image is the flagship vivo X80 Pro+.
It seems to have a truly massive camera island, seemingly made up of a circular part actually housing most of the camera hardware, sitting on top of a big rectangular "slab", which has a camera in its bottom left corner too. Perhaps the latter is a periscope-style telephoto, collapsed and spanning horizontally across the phone. There might even be a tiny display on the right side of the camera island? It wouldn't be a first.
As far as we currently know, the x80 Pro+ is expected to feature a 50 MP main (ISOCELL GN1), a 48 MP ultra-wide (IMX598), and a pair of 50 MP cameras (JN1 + JN2), likely to telephoto duty. So at least the total count checks out. The phone is also expected to have the custom vivo V1 camera ISP, which the text on the poster seems to mention as well. Along with something about a custom camera setup and perhaps a custom lens as well. We can't quite get the translation right.
Looking at the rest of the markings on the poster, we can extract some additional clues to the potential X80 Pro+ camera setup that don't necessarily correlate well with the above-rumored specs. The writing suggests that the main camera will have a 1/1.3″ sensor, whereas f/3.4 sounds like an aperture for a periscope telephoto. Both of these match up nicely with cameras on the existing vivo X70 Pro+. The Samsung GN5 sensor also seems to be mentioned, alongside its 1/.157″ size. Make of that what you will.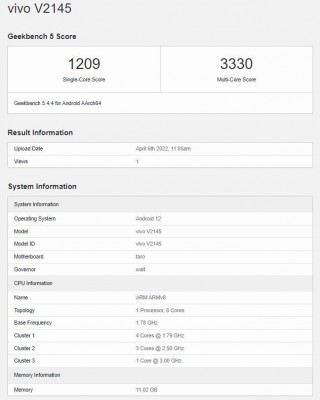 Geekbench result from vivo X80 Pro+ (V2145)
We don't really know much else about the X80 Pro+ as of yet, but rumors suggest a large 6.78″ QHD+ AMOLED display, a 120 Hz LTPO 2 panel and naturally the flagship Snapdragon 8 Gen 1 chipset.