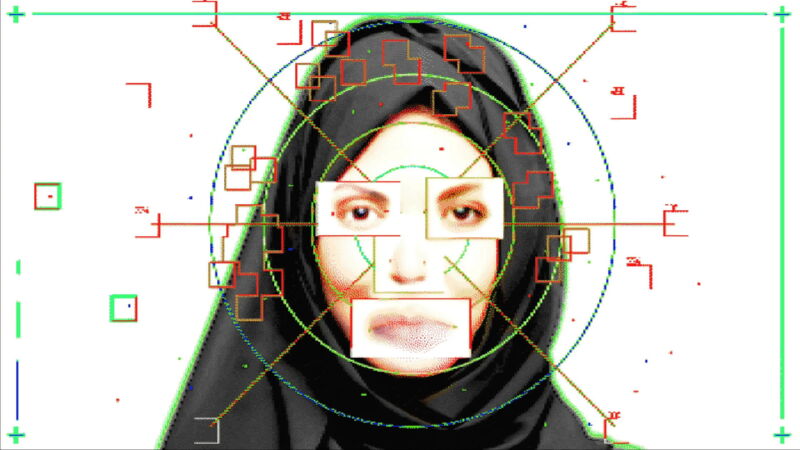 Last month, a young woman went to work at Sarzamineh Shadi, or Land of Happiness, an indoor amusement park east of Iran's capital, Tehran. After a photo of her without a hijab circulated on social media, the amusement park was closed, according to multiple accounts in Iranian media. Prosecutors in Tehran have reportedly opened an investigation.
Shuttering a business to force compliance with Iran's strict laws for women's dress is a familiar tactic to Shaparak Shajarizadeh. She stopped wearing a hijab in 2017 because she views it as a symbol of government suppression, and recalls restaurant owners, fearful of authorities, pressuring her to cover her head.

But Shajarizadeh, who fled to Canada in 2018 after three arrests for flouting hijab law, worries that women like the amusement park worker may now be targeted with face recognition algorithms as well as by conventional police work.
After Iranian lawmakers suggested last year that face recognition should be used to police hijab law, the head of an Iranian government agency that enforces morality law said in a September interview that the technology would be used "to identify inappropriate and unusual movements," including "failure to observe hijab laws." Individuals could be identified by checking faces against a national identity database to levy fines and make arrests, he said.
Two weeks later, a 22-year-old Kurdish woman named Jina Mahsa Amini died after being taken into custody by Iran's morality police for not wearing a hijab tightly enough. Her death sparked historic protests against women's dress rules, resulting in an estimated 19,000 arrests and more than 500 deaths. Shajarizadeh and others monitoring the ongoing outcry have noticed that some people involved in the protests are confronted by police days after an alleged incident—including women cited for not wearing a hijab. "Many people haven't been arrested in the streets," she says. "They were arrested at their homes one or two days later."
Although there are other ways women could have been identified, Shajarizadeh and others fear that the pattern indicates face recognition is already in use—perhaps the first known instance of a government using face recognition to impose dress law on women based on religious belief.
Mahsa Alimardani, who researches freedom of expression in Iran at the University of Oxford, has recently heard reports of women in Iran receiving citations in the mail for hijab law violations despite not having had an interaction with a law enforcement officer. Iran's government has spent years building a digital surveillance apparatus, Alimardani says. The country's national identity database, built in 2015, includes biometric data like face scans and is used for national ID cards and to identify people considered dissidents by authorities.