AppleInsider is supported by its audience and may earn commission as an Amazon Associate and affiliate partner on qualifying purchases. These affiliate partnerships do not influence our editorial content.

What desktop Mac you buy is an incredibly personal decision, driven by workflow as much as it is by financial considerations. Fortunately, there are wide varieties of machines you can buy at any price point. Here's how to pick.
Apple is most of the way through replacing its entire range of Macs with Apple Silicon models, away from its previous reliance on Intel processors. While the MacBook lineup has already completed its transformation, the desktop Mac range hasn't quite finished the migration process.
Even so, it is still in a firm-enough state for someone to look at the range and find something that matches the amount of cash they want to spend on a desktop Mac.
Before March's "Peek Performance" event, Apple Silicon primarily covered the value end of the spectrum. With the introduction of the Mac Studio, that coverage now comfortably extends into the premium and professional-focused segment of the range.
Apple's hint during the event for the Mac Pro will mean the range will cover far more ground in the future, but that will be months away at best. There are also rumblings about a new Apple Silicon generation on the way, but again, that's a problem for a different quarter.
With a few precise exceptions relating to Intel Macs, deciding on what Apple Silicon Mac you want all comes down to your current priorities and budget.
Overall Apple Silicon range
The current desktop Mac range using Apple Silicon consists of three specific hardware products: The Mac mini, the 24-inch iMac, and the Mac Studio.
For the purposes of this article, we are going to consider the three as five items, in part to simplify the process of explaining what you should go for.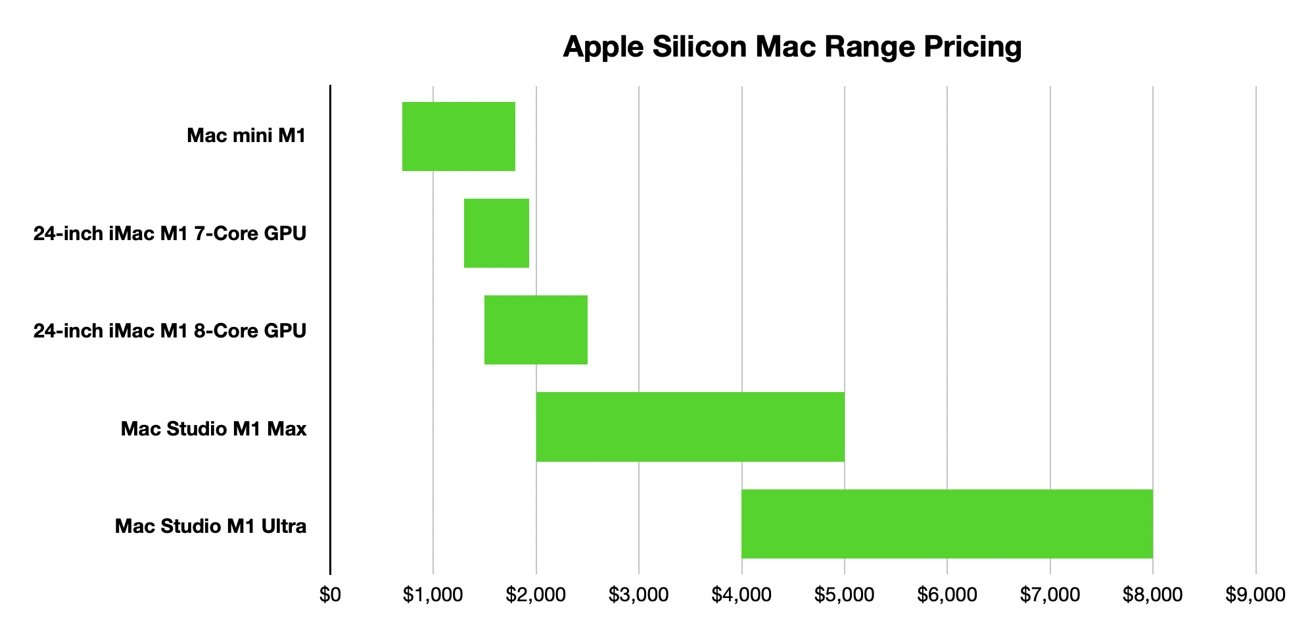 The Mac mini is on its own as its M1 chip doesn't have any variations other than the stock version. The 24-inch iMac is split since it has 7-core GPU and 8-core GPU options.
The Mac Studio is more obviously split in two, as the M1 Max and M1 Ultra editions are sufficiently distinct to stand on their own. Yes, there are different GPU core versions for Max and Ultra, but we will discuss them as part of the recommendations.
Overall, the Apple Silicon range starts from $699 for the lowest-priced Mac mini, rising to $7,999 for the highest-specification Mac Studio M1 Ultra.
Even in this range, there are two broad ranges of devices, covering cheaper consumer-oriented devices and premium items aimed at professionals. The milestone for that seems to be around $2,000, so this guide will split at that point, guiding on sub-$2,000 Macs and from $2,000 up.
Storage and Memory Upgrades
Except for GPU core counts, the most significant elements that can vary the cost of a Mac are memory and storage upgrades. Increasing either of these elements will typically raise the hardware price by a considerable level.
Handily for price comparison purposes, Apple keeps its memory and storage upgrade pricing the same across the board for its Apple Silicon products. While there may be differences in what is offered, the cost of switching particular sizes remains the same, regardless of the device.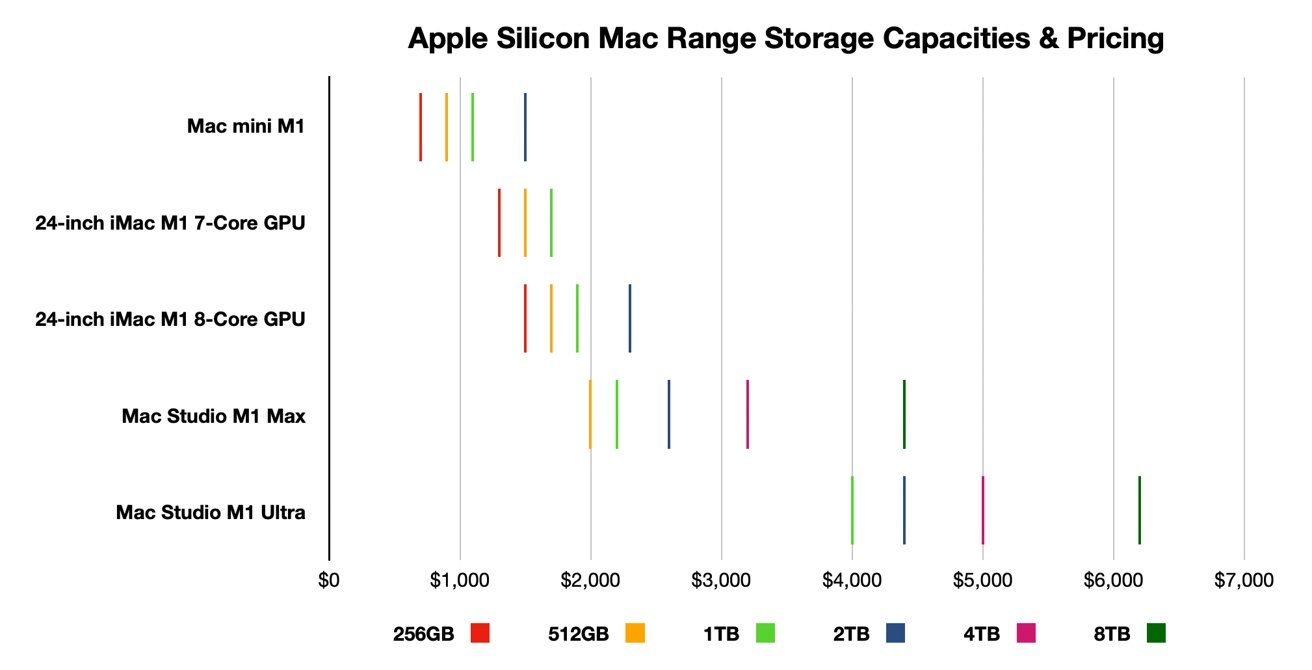 Storage can quickly add to the cost of a new Mac. External storage may be an alternative way.
For Unified Memory, the M1-equipped Mac mini and 24-inch iMac start with 8GB at their base specification, upgrading to 16GB priced at $200.
When it comes to the Mac Studio, the M1 Max versions start with 32GB of Unified Memory, with an upgrade to 64GB priced at $400. On the M1 Ultra, the starting point is 64GB, but you can go up to 128GB for an extra $800.
It is a similar story for storage, as while each model may start with a different amount, the cost of upgrades between capacity levels is the same across the board:
256GB to 512GB is $200.
512GB to 1TB is $200.
1TB to 2TB is $400.
2TB to 4TB is $600.
4TB to 8TB is $1,200.
This can quickly add up, with a difference of $2,400 between the lowest and highest-capacity Mac Studio options (512GB to 8TB), and $800 between the lowest and highest for the Mac mini and iMac (256GB to 2TB).
The cost of the upgrades may seem high, but consider that for these models, you cannot upgrade any of them after purchase. After purchase, you're stuck with the same memory and storage capacities until you replace the Mac with a newer model or one with your required specifications.
There's always the workaround of using external storage via USB-C or over Thunderbolt for storage. Though this adds an extra element to your desk, it's a reasonable accommodation to expand the Mac's storage capacity without paying a hefty price early on.
Sadly, the same cannot be said about memory, as you can't add an external upgrade to increase the amount in use. Apple's implementation of Universal Memory on the SoC also means it's extremely difficult for anyone to upgrade it.
AppleInsider recommends that if storage and memory capacity is a stumbling point in working out the configuration to fit your needs and budget, you'd be better off spending on memory. As storage can be supported externally, you might as well put the funds towards the bit you can't change.
Under $2,000 – Mac mini and 24-inch iMac
At the cheapest end of the spectrum is the Mac mini, with it being the only choice from $699 until $1,299 when the 24-inch iMac joins the fray. While it is tempting to go for 512GB of storage at $899, you should stick to the 16GB memory upgrade at first, then get both the memory and 512GB when you hit $1,099.
Sure, you could add the 10-Gigabit Ethernet upgrade at this point if you really much. But unless you're planning to shift bucketloads of data across your network using the Mac mini, and happen to have the infrastructure to do it, you could probably save the $100 fee.

Under $2,000, your choice is either a Mac Mini or a 24-inch iMac.
At $1,299, you have a physical design choice to make. Do you need a screen? If so, you're going to have to start looking at the 24-inch iMac.
As the name suggests, you have a great 24-inch display and a modern appearance. This could be handy if space is at a premium and you don't have a screen available to use.
If you already have a display that you intend to connect to your Mac, then your decisions are going to lean towards the Mac mini.
Another way of thinking about the two models is that you're getting a screen that adds an extra cost of $800 to the price for a Mac mini with a comparable specification. Sure, you could easily buy a separate display for the Mac mini for less than $800, but it won't be the same as seeing the sleek appearance of the iMac's body.
Yes, the Apple Studio Display now exists and looks like a cross between the iMac and the Pro Display XDR. Except it's a $1,599 27-inch 5K display. That's $800 more than the price difference between the Mac mini and the 24-inch iMac.
At $1,299, your decision is either going to be a Mac mini with 16GB memory and 1TB of storage, or a 24-inch iMac with a 7-core GPU, 8GB of memory, 256GB of storage, and a display, with Gigabit Ethernet a $30 option. You're probably better off with the Mac mini and buying a monitor.
When the 8-core GPU version of the 24-inch iMac comes in at $1,499, you're looking at one extra core and included Gigabit Ethernet on top of the base 7-core version. Against that, there's the 7-core model with 16GB of memory or 512GB of storage, or the $1,299 specifications.
Yet again, unless you have a dire need for the iMac display, you're still better off getting the Mac mini.
This remains true even at the $1,799 level, which can buy you the top-flight Mac mini with 16GB of memory, 2TB of storage, and 10-Gigabit Ethernet. For $130 more, you can get the highest 7-core GPU version of the iMac with 16GB memory, 1TB storage, a Gigabit Ethernet.
On the 8-core GPU iMac side, you'd be looking at 16GB of memory and either 256GB of storage for $1,699 or 512GB of $1,899. Even at this point, using the Mac mini with a different display still seems attractive.
If you are in the group that favors the Mac mini and a separate display as a best "bang for your buck" purchase, there's nothing between $1,800 and $2,000 of much interest, as it's varying upgrades of iMac.
For those who want the iMac aesthetic, the better option of the two variants is to go for the 8-core GPU version. That extra core and Ethernet don't seem that much of an upgrade, but since performance does ultimately matter, sacrificing storage for more graphical capability is the stronger long-term play.
It may seem like the 8-core GPU iMac is the only game in town between $1,939 and $2,000, but you cannot configure an iMac upgrade in that short price range. Whatever you'd feel at $1,899 pretty much continues until the end of the range.
$2,000 and over – 24-inch iMac and Mac Studio
While the sub-$2,000 range grapples with the question of whether you'd be willing to spend $800 for an included display of an iMac or go for a better-specification Mac mini, the situation changes when you reach $2,000.
From $2,000 to $2,499, it's whether you want to get a decent-specification iMac with a screen or go all-in on a Mac Studio M1 Max without a display.
It is a subtle change, as the low-range comparison involved hardware that could have very similar core configurations. With the Mac Studio in the picture, it's a very different comparison.

Over $2,000, and you will probably be getting a Mac Studio, though the 24-inch iMac is still there at the low end of the scale.
The M1 Max is a considerably more powerful chip than the M1, at roughly 2x the CPU performance with its ten cores versus eight in the M1. The GPU is also better, with the M1's eight cores beaten by 24 cores in the base configuration, 32 cores in the upper version.
At $1,999, the Mac Studio has 24 GPU cores, 32GB of memory, and 512GB of storage. The nearest iMac with the 8-core GPU and the slower M1 has 16GB of memory and 1TB of storage for $2,099.
For those looking for performance, there's no question that the Mac Studio is the option to go for. The group caring about aesthetics will find it tough to justify the allure of the display when compared against the high-performance Mac.
At the iMac's upper limit of 16GB of memory and 2TB of storage for $2,499, the nearest Mac Studio configurations are $2,399 and $2,599, but both are equally compelling.
At $2,399, it's the M1 Max with the 32-core GPU along with 32GB of memory and 1TB of storage. At $2,599, you can instead keep at the 24-core GPU version but either upgrade to 64GB of memory or 2TB of storage. All versions still outweigh the benefits offered by the 24-inch iMac at that price.
That's before you even consider creative professionals will greatly benefit from the media engines for crunching on video.
Between $2,500 and $4,000, the M1 Max version of the Mac Studio is the only game in town. The main focus should be on the 32-core GPU and the 64GB memory options before storage in terms of upgrades to take.
At $3,999, the M1 Ultra Mac Studio becomes a factor, with its 48-core GPU and 20-core CPU accompanied by 64GB of memory and 1TB of storage. To match the price, the M1 Max version fields a 32-core GPU with its 10-core CPU, 64GB of memory, and 4TB of storage.
The question is whether you should go for the sheer performance option or spend instead on storage. For most people, the ease of introducing external storage options should make it easy to say the M1 Ultra option is the way to go.
At the maximum for the M1 Max Mac Studio, you're looking at $4,999 for the 32-core GPU version, 64GB of memory, and 8TB of storage. On the M1 Ultra side, that extra $100 can upgrade the storage to 4TB, or more practically, upgrade to the 64-core GPU version, or even get the memory to 128GB for $800.
Once again, the smarter money is on the M1 Ultra, but it's a toss-up on the GPU or memory depending on what you ultimately need it for.
Going on upwards in price, you should consider the top-end 64-core GPU option and 128GB memory upgrades as the first things to adjust before touching storage. At least until $5,799, when you only have storage upgrades left to go.
At that point, it becomes a test of nerve to decide between spending up to $2,200 on an extra 7TB of storage or saving cash by adding external storage to your computing arrangement.
What about Intel and the Mac Pro?
It probably hasn't escaped anyone's attention that Intel Macs aren't mentioned in the list at all. Indeed, if we were talking about the full price range of Macs you can buy from Apple directly, we do have to talk about the Intel Mac mini and the Mac Pro.
The problem here is that there are quite a few caveats to going down the Intel route. For a start, they may not be available in the not too distant future.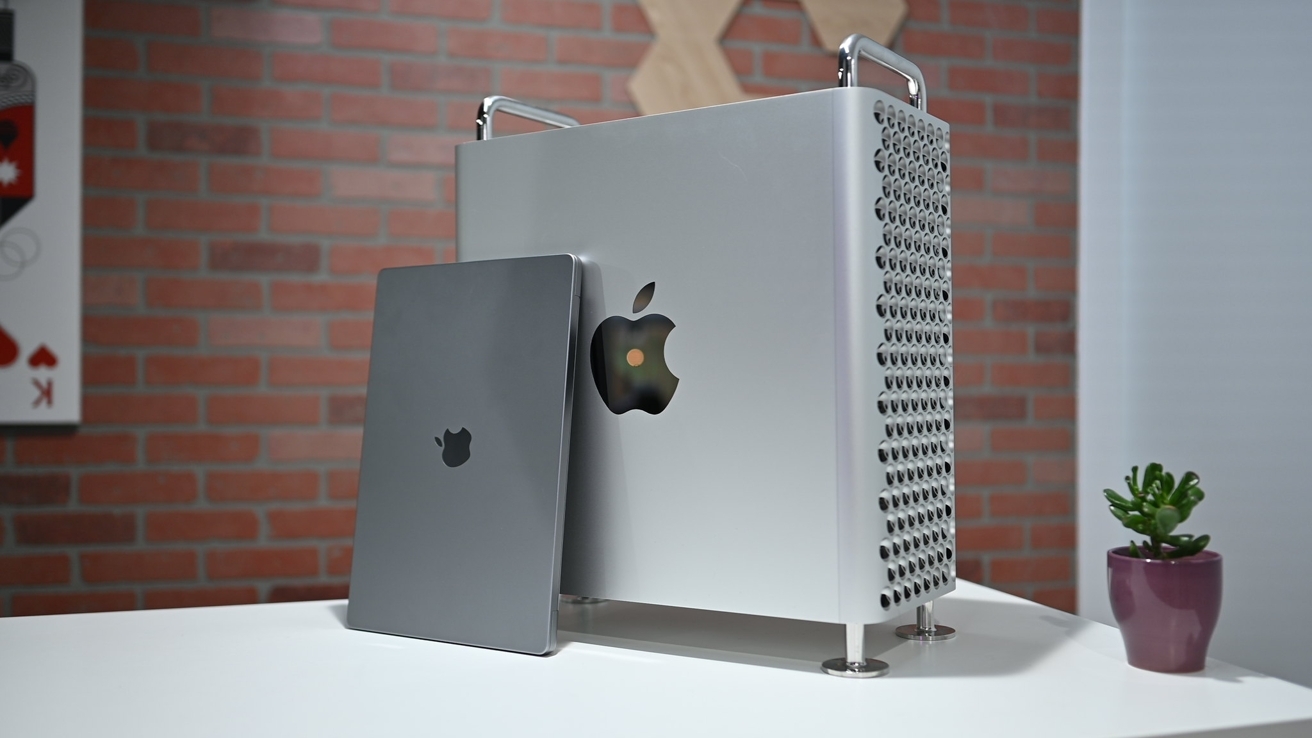 The Intel Mac Pro is striking, but might not be around for that much longer.
The last Mac in the catalog that doesn't have a direct Apple Silicon counterpart is the Mac Pro. Still sold by Apple, it is an Intel Xeon-powered workstation that offers considerable customizable options, including upgrades after the initial purchase.
Apple has teased that it will offer something Apple Silicon-based for the Mac Pro at some point. Given the aggressive two-year transition schedule to migrate from Intel, it's likely to be unveiled at some point in 2022.
We don't know what exact form it will take, but the Mac Studio has demonstrated that Apple is certainly working on things. The M1 Ultra version has more cores than most of the Mac Pro processor options, with copious amounts of memory as well.
Initial benchmarks point to the M1 Ultra being much faster than a 28-core Mac Pro in both single-core and multi-core benchmarks. While you could feasibly include enough GPU performance in a Mac Pro to beat an M1 Ultra, the latter's doing it with a discrete GPU alone, which is impressive given the size.
Then there's the Media Engine of the M1 Max and Ultra, used for handling streams of video for media work. The M1 Max can run seven 8K ProRes content streams in Final Cut Pro, which Apple executives said is more "than on a 28-core Mac Pro with an Afterburner card."
With double the performance, the M1 Ultra handles video even better, encoding at up to 5.6 times faster than the same Mac Pro configuration.
Obviously, video editors will be keen to use the M1 Ultra Mac Studio over the Mac Pro.
Add in that Apple Silicon has proven itself to outpace Intel on the consumer-priced end of the scale, and there's no real reason to recommend the Intel Mac Mini option to the average user, either.

The Intel Mac Pro skews the overall price graph quite badly.
There are, however, a few reasons that the Intel-based Mac Pro is a valid purchase to make, but they are edge-cases.
The big one is if you run software that only supports Intel chips. With the existence of Rosetta 2, it's not as big a problem for consumers as you would think, but it's an issue for enterprise clients of Apple.
Then there's servicing and upgrades, which you can do on a Mac Pro, but not on Apple Silicon hardware. Again, this is a business-oriented reason due to the need to service hardware to maintain performance over its usable lifetime, making it as cost-effective to the company as possible.
You've also got the situations where a Mac Pro user may need to use extremely high quantities of memory. 128GB is a lot for Apple Silicon, but there are rare cases where someone needs to run a Mac application and requires 1.5TB of memory.
Yes, it is entirely possible to come up with a justifiable reason to spend almost $52,000 on a 28-core Intel Xeon W Mac Pro with 1.5TB of DDR4 EEC memory, two Radeon Pro W6800X Duo GPUs with 64GB of dedicated memory apiece, 8TB of storage, and an Afterburner Card. But that reason has to be extremely exceptional to excuse throw more money than you would on six top-spec M1 Ultra Mac Studios.
Apple Silicon has certainly demonstrated it is powerful enough to handle the tasks of most power users, and the Mac Studio can deal with the vast majority of Mac Pro user requests, at a considerably lower cost.
Intel Macs are still around, but they shouldn't even be an option for the vast majority of users.
Buying your Mac mini, 24-inch iMac, or Mac Studio
You can get exclusive discounts on Apple's Mac lineup with a bit of searching. One way to find a great deal is to head over to the AppleInisider Mac Price Guide.
Source link