AppleInsider is supported by its audience and may earn commission as an Amazon Associate and affiliate partner on qualifying purchases. These affiliate partnerships do not influence our editorial content.

Apple has given consumers two ways to get started with M2, but when deciding whether to go for the M2 MacBook Air or the M2 13-inch MacBook Pro, there's a clear choice for most users.
Apple's introduction of the M2 generation of Apple Silicon is similar to the M1 launch in a few ways. Yet again, Apple is starting with entry-level Mac models, with the M2 MacBook Air and M2 13-inch MacBook Pro the first options on the block.
However, rather than being a simple spec-bump to consider, Apple has added a giant wrinkle to proceedings by overhauling its MacBook Air.
The wrinkle doesn't make the decision-making process harder. Indeed, the changes Apple made have made it much easier to recommend one over the other.
What it does do is make it harder to justify using the other.
Specifications
Specifications
MacBook Air (2022, M2)
13-inch MacBook Pro (2022, M2)
Starting Price
$1,199
Best M2 MacBook Air prices
$1,299
Best M2 13-inch MacBook Pro prices
Dimensions (inches)
11.97 x 8.46 x 0.44
11.97 x 8.36 x 0.61
Weight (pounds)
2.7
3.0
Display
13.6-inch Liquid Retina,
Wide Color (P3),
True Tone
13.3-inch Retina,
Wide Color (P3)
True Tone
Resolution
2,560 x 1,664
2,560 x 1,600
Brightness
500 nits
400 nits
Processor
Apple M2
Apple M2
Graphics
8-core GPU,
10-core GPU
10-core GPU
Memory
8GB,
16GB,
24GB
8GB,
16GB,
24GB
Storage
256GB,
512GB,
1TB,
2TB
256GB,
512GB,
1TB,
2TB
Battery
52.6Wh lithium-polymer,
Up to 15 hours web, 18 hours video
58.2Wh lithium-polymer,
Up to 17 hours web, 20 hours video
Networking
802.11ax Wi-Fi 6
Bluetooth 5.0
802.11ax Wi-Fi 6
Bluetooth 5.0
Touch ID
Yes
Yes, Touch Bar
Camera
1080p FaceTime HD
720p FaceTime HD
Audio
Four-speaker sound system,
Three-mic array with directional beamforming,
Headphone jack with high-impedance headphone support,
Dolby Atmos support with Spatial Audio
Stereo speakers with high dynamic range,
Three-mic array with directional beamforming,
Headphone jack with high-impedance headphone support,
Dolby Atmos support with Spatial Audio
Ports
Two Thunderbolt/USB 4,
3.5mm headphone,
MagSafe 3
Two Thunderbolt/USB 4,
3.5mm headphone
Very different exteriors
In the M1 generation, there were few distinct differences between the 13-inch MacBook Pro and the MacBook Air, and they boiled down to weight and physical dimensions, thermal throttling, and that's about it. Specifications-wise, they were pretty close, making you think about going for one model over the other.
For the M2, Apple's decision to revamp the MacBook Air introduces many variations between the two models.
Externally, the update of the MacBook Air brings it more in line with the 14-inch MacBook Pro and its 16-inch counterpart, with a flatter appearance instead of its signature taper. The 13-inch MacBook Pro still looks the same as the previous generation.
The two are pretty similar in terms of footprint, with each being 11.97 inches wide, but the Air is slightly deeper at 8.46 inches to 8.36 inches for the Pro. The thickness difference is still considerable at 0.44 inches for the Air, and 0.61 for the Pro, with the Air also lighter at 2.7 pounds to 3.0 pounds.
Opening up the two, you have similar but different displays. The Air's screen is larger at 13.6 inches than the Pro's 13.3 inches, with the Air being slightly taller. That also comes across in the resolution of 2,560 by 1,664 pixels for the Air and 2,560 by 1,600 for the Pro.
Both are equally bright at 500 nits, with Wide color (P3) support and True Tone.
However, while the 13-inch MacBook Pro has a larger bezel space at the top to place its FaceTime HD camera, the MacBook Air goes for a thinner bezel but uses a notch instead.
This design aesthetic could be a deal-breaker for users, but one used on most other MacBooks Apple sells. It's also relatively unobtrusive, as you're still getting the same size and resolution as the Pro for full-screen apps, since Apple blacks out the display "ears" around the notch.
That camera's also better on the MacBook Air, as Apple uses a 1080p FaceTime HD camera instead of the 720p in the Pro. Both benefit from advanced image signal processing, providing computational video adjustments.
The keyboard is also different, but more from the 13-inch MacBook Pro continuing to hold onto the Touch Bar. The Air instead uses full-height function keys and a dedicated Touch ID button.
Rounding out the outside, both models have a pair of Thunderbolt/USB 4 ports and headphone jacks with support for high-impedance headphones, except that the MacBook Air also has a MagSafe 3 charging port.
Speaking of audio, the MacBook Air has a four-speaker system with wide stereo sound and support for Spatial Audio, while the Pro has stereo speakers. Each also has a three-mic array with directional beamforming for getting audio back into the Mac.
Internal differences
While the outside is different, you could expect the internal specifications to generally be the same. To a point, this is true, but even here, there are some differences.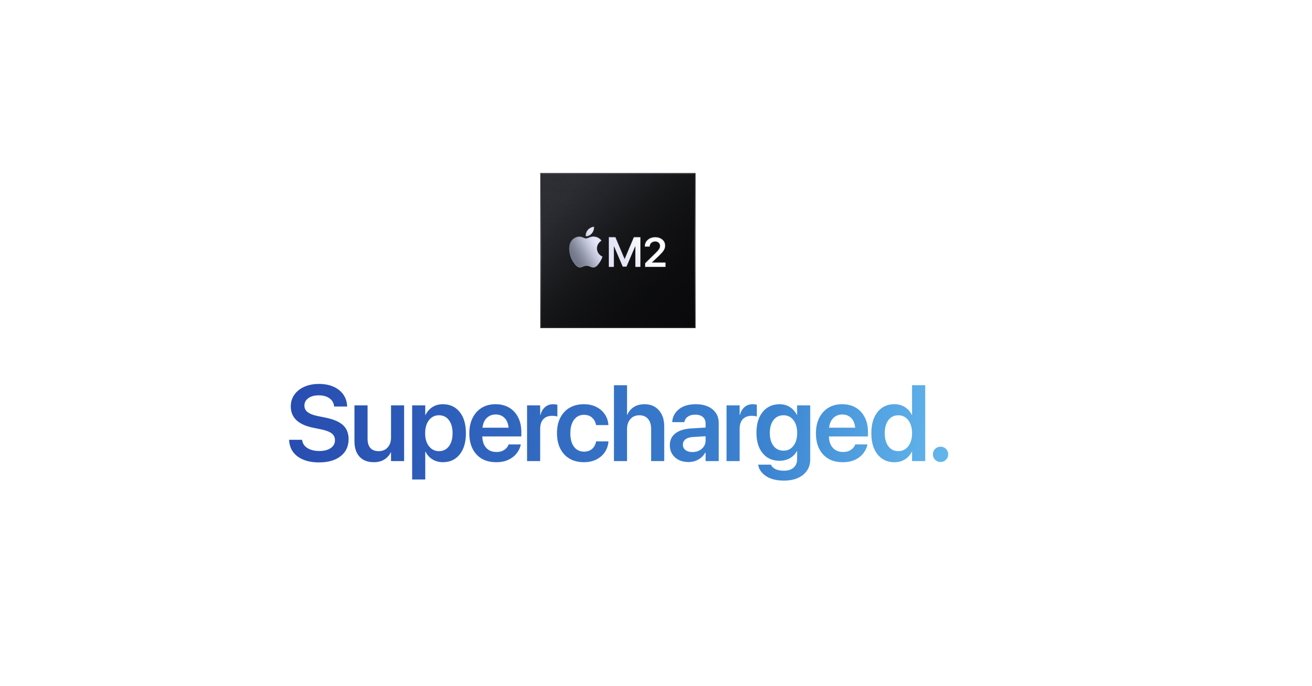 Both machines sport an M2 processor
The headline addition, the M2, has an 8-core CPU consisting of four high-performance cores and four high-efficiency cores, which Apple says provides an 18% improvement over M1's version.
There's a memory bandwidth boost to 100GB/s, while Unified Memory capacities have expanded from 8GB and 16GB options to include a 24GB variant.
Then there's the Neural Engine, which benefits from a 40% performance boost. M2 also gains the Media Engine, a hardware video encoding and decoding component for handling H.264 and HEVC video, and ProRes 4K and 8K footage.
The difference in how M2 is implemented across the MacBook Air and the 13-inch MacBook Pro revolves around the GPU.
The 13-inch MacBook Pro has only one M2 configuration, where it uses a 10-core Apple-designed GPU. The MacBook Air provides two options: the 10-core joined by an 8-core alternative.
This difference may seem slight, but it's enough of a change for Apple to warrant the cost difference between 8 cores and 10 cores to be $100.
A connected performance difference is that the MacBook Air is passively-cooled, while the 13-inch MacBook Pro includes an active cooling system. This means the MacBook Pro can better handle sustained high-effort workloads for longer than the MacBook Air before succumbing to thermal throttling.
This isn't as big a difference as you may think, as most tasks are single-threaded and brief in nature. Thermal throttling shouldn't be concerned for the target market of the MacBook Air at all and should only be noticed for those rare intensive workloads.
Users with more demanding needs may look towards the 13-inch MacBook Pro as a possible answer, but you could just as quickly point those customers in the direction of the M1 Pro or M1 Max-equipped 14-inch and 16-inch MacBook Pro if performance is required.
Another internal difference is power, with the MacBook Air packing a 52.6-watt-hour lithium-polymer battery against the 58.2-watt-hour version in the 13-inch MacBook Pro. The Pro has better battery life against Apple's metrics, equating 17 hours of wireless web usage to 15 hours on the Air, or 20 hours of Apple TV app movie playback against 18 hours.
That's a difference, but it's not a massive issue, as it shows both are equally capable of surviving a day of work.
Is the 13-inch MacBook Pro an option?
In an article about which M2-equipped MacBook to buy, you would expect more conflict about which model is the best for most users. That certainly isn't the case here.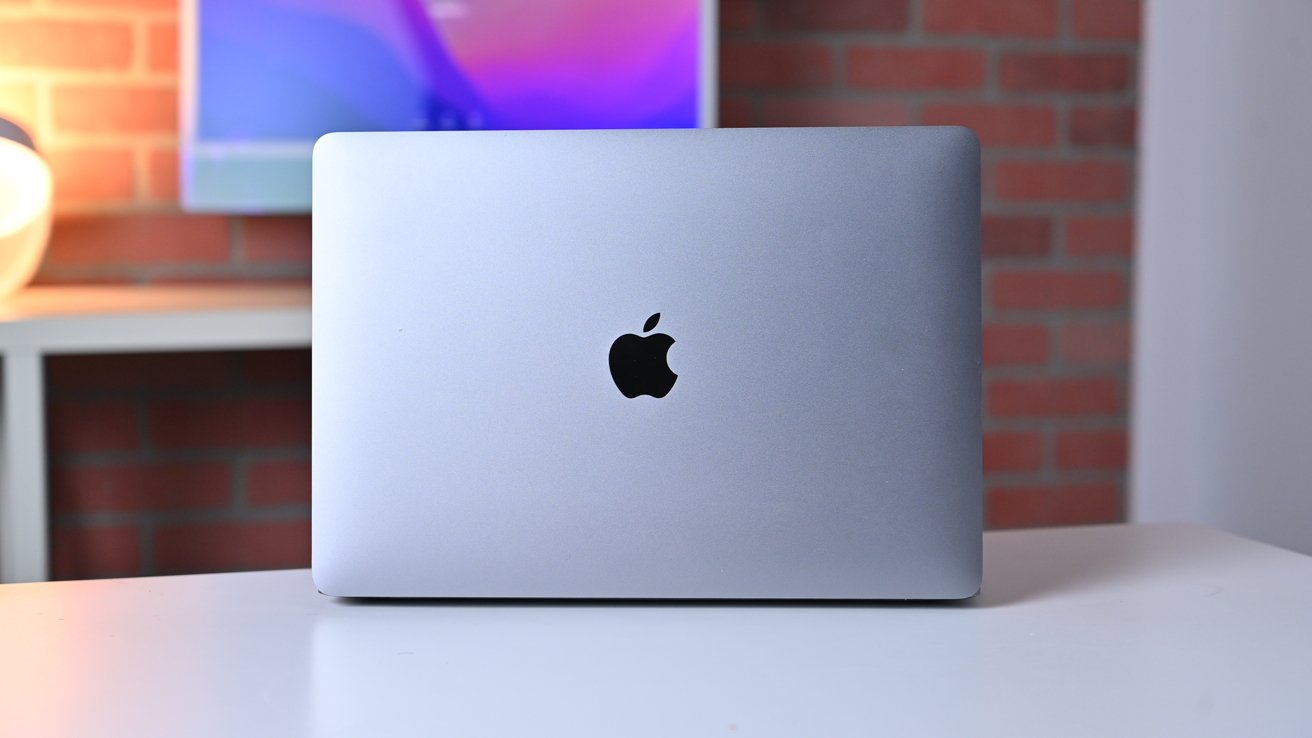 13-inch MacBook Pro
On the one hand, you have a modernized MacBook Air that has a better display, improved speakers, an extra chip option, and lightness in its favor while still providing similar levels of performance. Conversely, you have an older-design MacBook Pro that offers very few benefits.
Those benefits are small, such as having a longer battery life and active cooling versus passive cooling. Sure, it will be able to do more demanding tasks for longer before thermal throttling strikes, but it will not be a factor for most of the target audience of Apple's value-oriented MacBook lineup.
There's little else to stretch for in advantages, though people who may be annoyed by the notch staring at them on the display or really love the Touch Bar may want to seek out the 13-inch MacBook Pro over the Air.
Indeed, if you look at the two at a comparative-specification level, they are, in fact, the same price across the board.
Users who don't anticipate workloads that could benefit from 10 GPU cores instead of 8 cores could save themselves $100 by going for the cheaper chip option, making the Air even more attractive.
There are reasons to go for the 13-inch MacBook Pro over the MacBook Air. They happen to be oddly specific ones.
What M2 MacBook should I buy?
Except for those who have the aforementioned specific reasons to get the 13-inch MacBook Pro, the MacBook Air is probably going to be the focus of your attention.
At the value end, the base-model MacBook Air costs $1,199, with the 8-core GPU version of the M2, 8GB of Unified Memory, and 256GB of storage. You can pay $100 more for the 10-core GPU version, which gives you the same base specifications as the identically-priced 13-inch MacBook Pro.
As AppleInsider has previously discussed when buying a MacBook, storage is a killer on the wallet. Given the numerous fast external drives you can acquire for a reasonable price, it may be worth considering going down that route and living with an extra element to carry around than paying out a high storage upgrade fee.
For storage, you should get what you are comfortable using at the very minimum. External drives could be a better option if you want to go higher.
Since you cannot upgrade any components after purchase, storage is also the only relatively upgradable section via external drives.
You'll be stuck with the GPU core count and memory from the time of purchase until you replace the MacBook. Therefore, it is typically best to invest more in memory and the GPU before increasing storage.
In the case of the MacBook Air, AppleInsider recommends going for the 16GB memory upgrade at first since that can impact general performance as well as the graphical. The $100 chip update could be helpful to get, but it won't be as beneficial as more memory.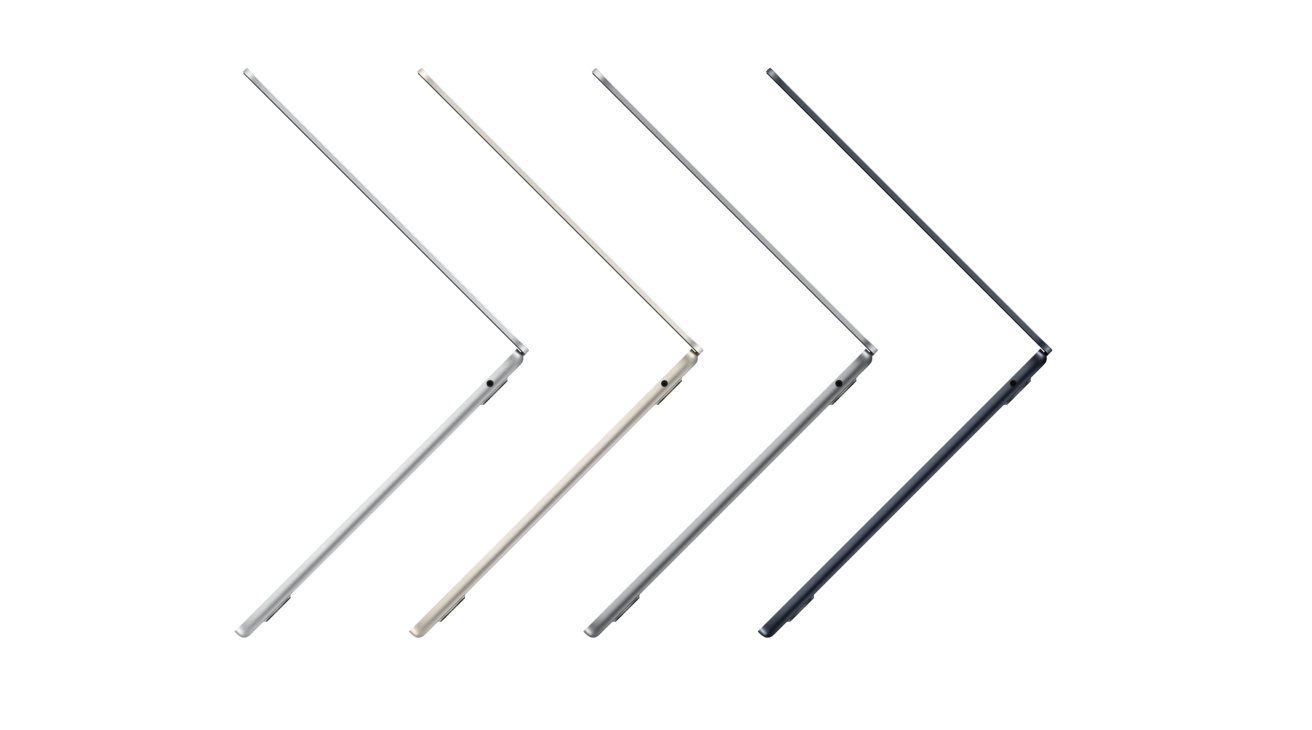 Four colors of the new MacBook Air
After the 16GB memory upgrade, it's a toss-up between the 24GB memory option or upping the storage to 512GB, but the latter may be more prudent on a quality-of-life basis. However, getting the 24GB memory upgrade and the chip update (if applicable) is strongly recommended instead of getting the 1TB SSD.
Above all else, you should buy based on your needs, but you should also consider other options than just M2, especially if you want more performance.
For example, pricing out a 10-core GPU M2 MacBook Air or 13-inch MacBook Pro with 16GB of memory and 512GB of storage costs $1,699. For just $300 more, you could use the M1 Pro-equipped 14-inch MacBook Pro with the same memory and storage (find the best sale price).
That upgrade doesn't just get you a bigger screen but also an 8-core CPU with six performance and two efficiency cores, a 14-core GPU, 200GB/s of memory bandwidth, and a bunch of extra ports on the sides. If your bank account can stomach it, there's also a lot more headroom for upgrades.
The 13-inch MacBook Pro could be considered an answer for those needing performance, but it's far from being the best option.
Source link