The Motorola Tab G70 LTE checks all the boxes with its features and decimates its rivals, but it does have a big weakness.
We do not recommend cheap Android tablets at all, unless you cannot afford an iPad, or don't want to be a part of Apple's walled garden. Android tablets are essentially entry-level phones with large sub-par displays and messed up software. Samsung rules this segment because it tries to make the software a bit more productive. However, the tablet segment under Rs. 25,000 hasn't seen any exciting announcement, until Motorola jumped in with the Motorola Tab G70 LTE.
Similar to its current crop of aggressively priced and equipped phones, Motorola has given everything one could ask from an affordable Android tablet. A 2K display? Check. A capable processor? Yes. Good speakers? It's got four of them. Fancy design? Definitely! In a nutshell, the Rs. 21,990 Motorola Tab G70 LTE feels like it kicked the much-hyped Realme Pad tablet and Samsung Galaxy Tab A7 right on their pain points and made itself stand out as an exception.
So, should you buy it? To find the answer, I spent almost 10 days with this tablet and the answer is almost as expected but with one caveat.
Motorola Tab G70 LTE Design
The Realme Pad set a benchmark for tablet design last year and Motorola now outdoes it leaps and bounds. Not only is the Motorola Tab G70 LTE well built, it looks way more handsome than any other tablet at this price. In fact, it reminds me of the Infinix INBook X1 laptop with its dual-tone paintjob. The metal half has a beautiful satin green finish while the plastic half (for the LTE antennas) has a matte (read grippy) texture. The build quality feels almost as good as the base 10.2-inch iPad (this is high praise from someone who has been a loyal iPad user for five years!)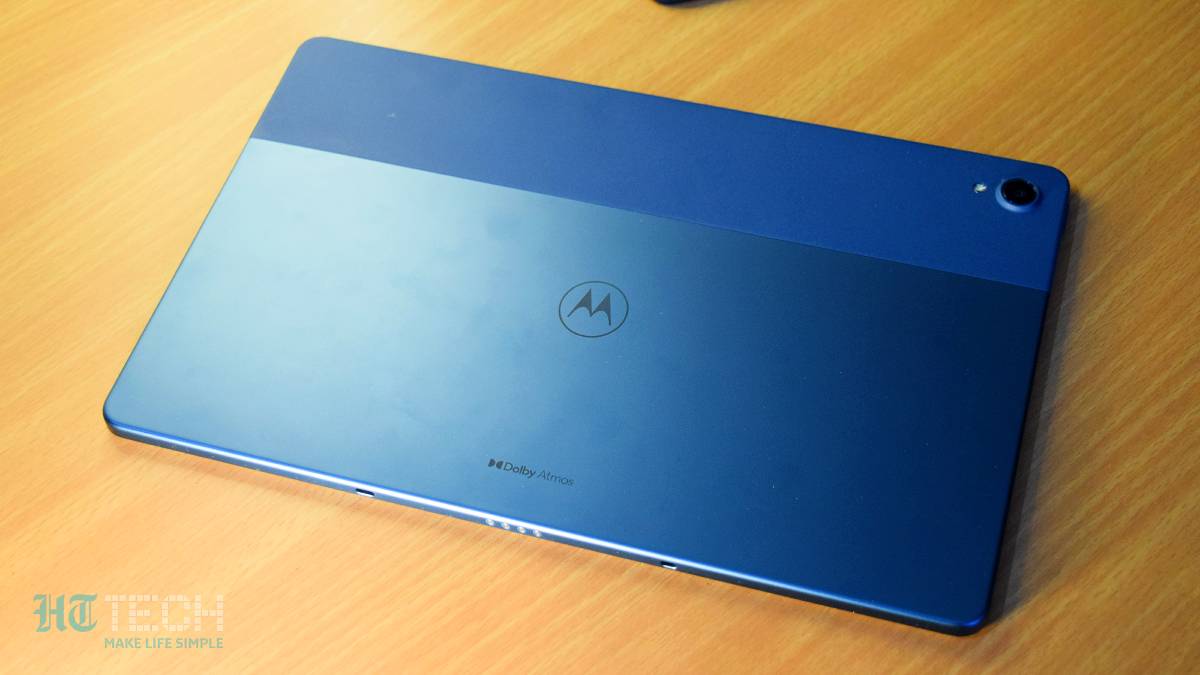 The clever design also keeps the weight manageable, despite the device tipping the scales at 500 grams. The bezels are narrow but the 5:3 aspect ratio could make it a tad cumbersome for some. One clever design choice is putting the front camera at the center of the side bezel, which in the landscape layout imparts a laptop webcam-like effect.
Sadly, there's no in-built kickstand and Motorola does not sell any folio cover or keyboard case. There's a slot for POGO pins to attach folio keyboard cases though.
Motorola Tab G70 LTE Display
The display is one of the reasons I would recommend this Motorola tablet to movie lovers. At 11-inches, this is one of the largest tablet displays you can find at this price. It uses an IPS LCD panel with a 2K pixel resolution and rated brightness levels of up to 400 nits. The display is certified for Netflix HD and Amazon Prime HD content. The refresh rate stays at a standard 60Hz though.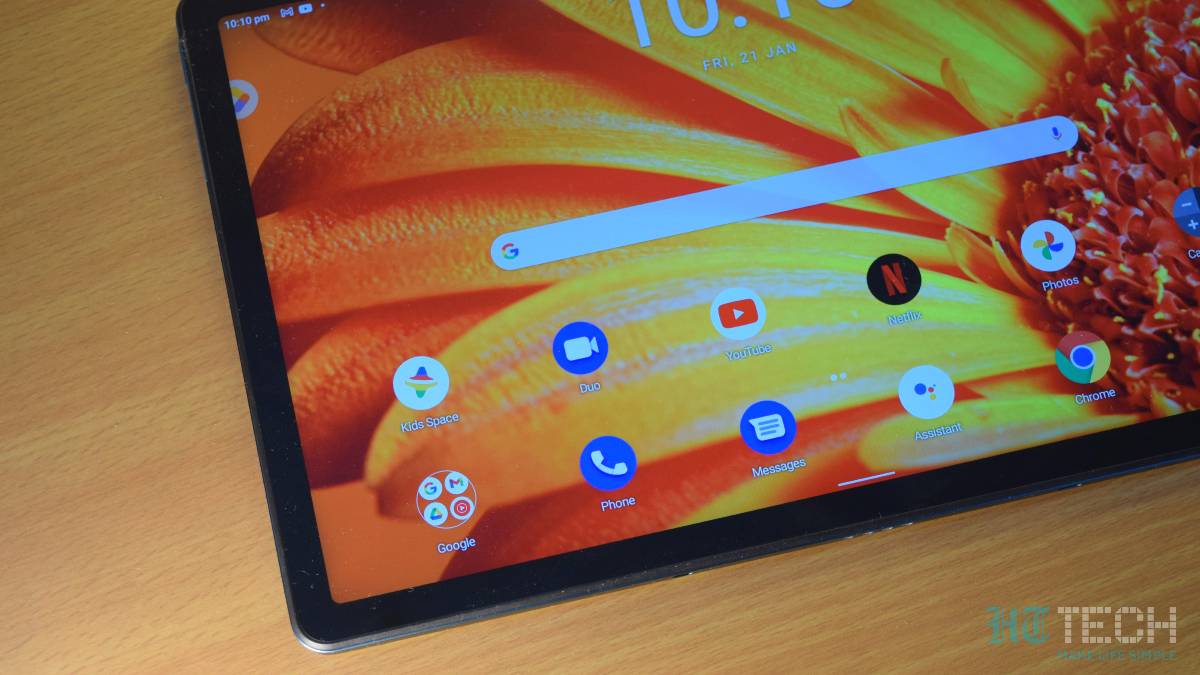 For its price, the display experience is fine. It is not a highly vibrant display but most of you will be satisfied with its colours, contrast levels and brightness. The 2K resolution ensures the interface and videos take full advantage of the display. Samsung's Galaxy Tab A7 has a slight advantage in terms of colours though. The IPS display on this Motorola Tab G70 LTE also means that viewing angles are wide. Moreover, the TUV Rheinland certification means it is easier on the eyes even after hours of movie watching.
Motorola Tab G70 LTE Performance
A sore point for most affordable tablets but not for this one. Motorola is using the MediaTek Helio G90T from 2018 to power it and pairs it with 4GB LPDDR4X RAM and 64GB of uMCP storage. It runs on an almost stock Android 11 now but Motorola promises an Android 12 update later as well as two years of security updates.
The Helio G90T is no ballerina but it is optimised well for the software and has enough raw power to do casual gaming nicely. Most popular multiplayer games such as Call of Duty: Mobile and Shadow Fight 4: Arena run at Medium to High graphics without noticeable frame drops, or annoying lags, despite running at a higher than usual resolution. This is the only affordable tablet I can recommend for gaming right now.
That amount of raw power is more than enough to run the rest of the OS, streaming apps, productivity apps, and social media apps with ease. The G90T is eager for most generic tasks. That said, the software itself is a disappointment, knowing what Motorola is capable of.
The Motorola Tab G70 LTE is a Lenovo Tab P11 Plus underneath and it runs Lenovo software. In its current state, the "stock" Android 11 interface is laggy and unnecessarily takes more time to respond. The reason I say this is because with a custom 3rd-party launcher, the tablet absolutely flies. There's none of those Motorola customisation options we are fond of on their smartphones. Moreover, the system apps are not properly designed for this big screen. It feels like a hastily put-together Android skin.
And even though Motorola promises two years of security support, our unit still runs on October 2021 security patch and October 1 Play Security.
Moreover, the "stock Android" interface does not do enough justice to the large display. Features such as a Sidebar for quick access to apps, multiple floating windows, smarter widgets, and similar productivity touches are missing. The Google Entertainment Hub looks pretty and is helpful for discovering content from installed apps, and so is the Kids Space.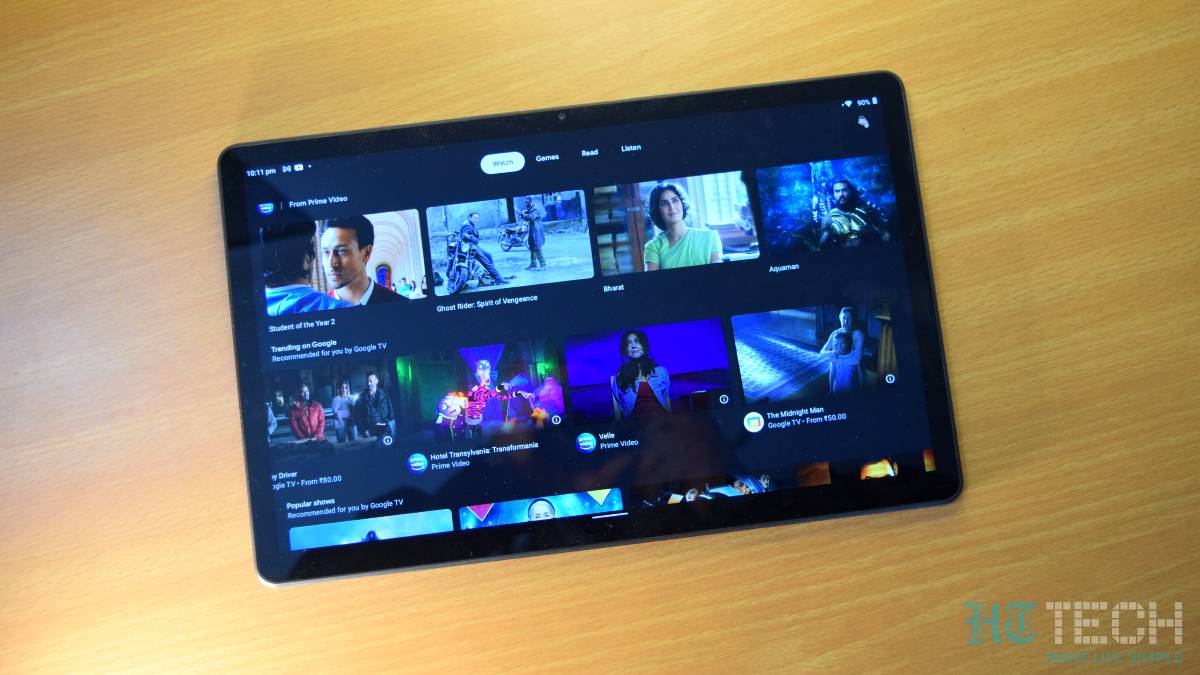 Credits to be given where due – the interface is free of ads and bloat. Another great aspect is the audio quality. The four speakers sound rich – the mids are strong while there is just enough low-end emphasis and clear highs to make movies and web shows enjoyable. No 3.5mm headphone jack is present, which means you have to rely on wireless earbuds for streaming audio.
Unlike most options in this category, the Motorola Tab G70 LTE comes as standard with 4G LTE connectivity, which means you can make calls like a regular phone. I did not face connectivity issues with my Jio SIM card while sitting out of Wi-Fi range. Calling on the speakerphone is unconventional but it works well.
You also get cameras on this one. An 8MP front camera with dual-mic configuration works well during video calls but the image quality is poor. The 13MP camera is good enough for scanning documents or taking representational photos.
Motorola Tab G70 LTE Battery
Battery life on the Motorola Tab G70 LTE is great without LTE and decent with a SIM card inside. The 7700mAh battery with generic usage, including 1-2 hours of web shows, an hour of video calling, 1-2 hours of gaming, and 2-3 hours of social media browsing on Wi-Fi can go up to two days with ease. That figure drops to a single day when you are doing it on mobile data.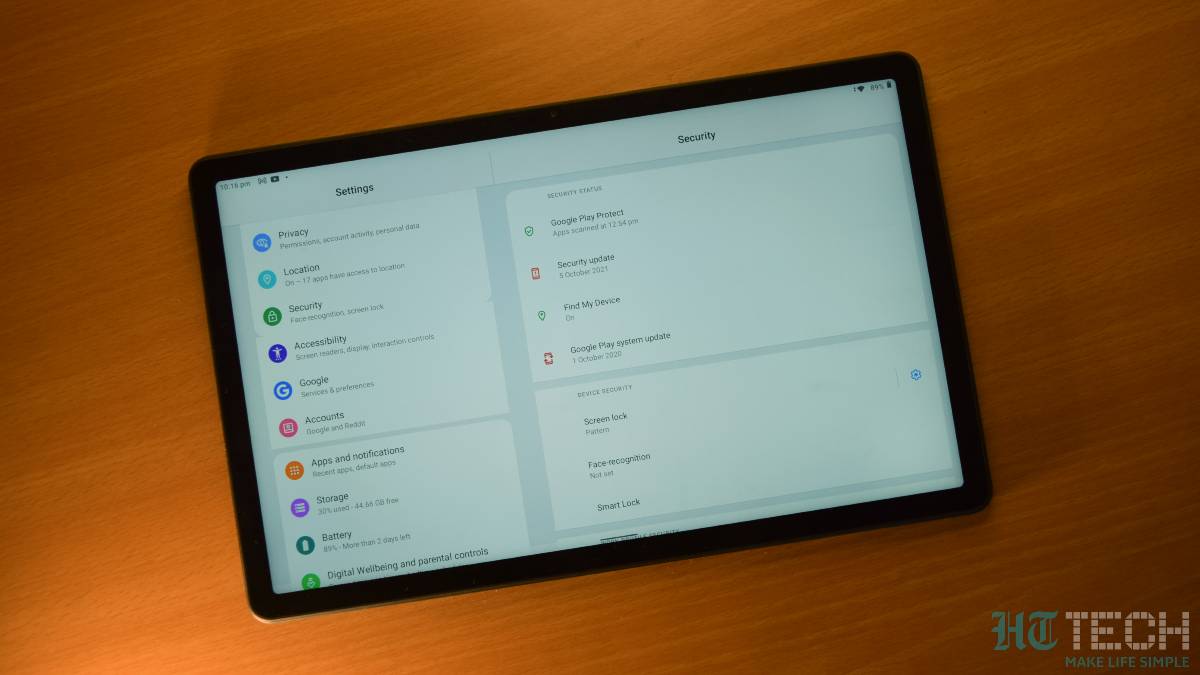 Motorola bundles its 20W TurboPower charger in the box and that takes hours to fill up. It is better if you leave the tablet on overnight charging.
Verdict
Not many affordable tablets are as pleasant to use as the Motorola Tab G70 LTE. In terms of specifications, Motorola has got it all right for its price segment. It has got a good display, impressive performance, great speakers, and a pretty design. The Realme Pad comes close to this one in terms of overall value but by paying a little extra, the performance gains on the Motorola tablet is commendable. Plus, it will also get Android 12, something that most of its rivals won't.
That said, Motorola leaves room for improvement in this one. The software is rough and surely needs more polishing as well as tablet-friendly features. A 6GB RAM variant could have been better. The absence of a 3.5mm audio jack could be worrisome for many. And most importantly, it absolutely lacks any kind of first-party accessories; a folio cover or a keyboard should be available at least as optional additions.
To sum it up, the Motorola Tab G70 LTE is a great Android tablet under Rs. 25,000, considering what it offers and what it competes with. Those seeking a good entertainment experience (movie watching, gaming) should surely check this out.
Product Name
Motorola Tab G70 LTE
Pros
Fun design
Great audio
Good Performance
Cons
Unoptimised software
Poor front camera
No Motorola accessories