Apple Watch Series 3 (42mm) A1861 Silver Case & White Sport Band GPS (HE1015083)
Available on eBay
@import url(https://fonts.googleapis.com/css?family=Open+Sans:300);
.buya-main {
font: 14px Arial, Helvetica, sans-serif;
color: #666;
}
.buya-main a {
text-decoration: none;
color: #ae332a;
outline: none;
}
.buya-main a:hover {
text-decoration: underline;
}
.buya-main img {
border: none;
}
.buya-main .line {
width: 100%;
height: 2px;
background-color: #f3f3f3;
margin: 0 0 5px 0;
clear: both;
}
.buya-main .bravo-logo {
margin: 5px 0;
font-size: 12px;
text-align: center;
background-color: #f3f3f3;
float: right;
width: 100%;
}
.buya-main .bravo-logo a {
color: #666;
float: right;
margin: 5px;
}
.buya-main .bravo-logo a:hover,
.buya-main .bravo-footer a:hover {
text-decoration: none;
}
.buya-main .bravo-logo img {
display: block;
}
.buya-main .logo2 {
clear: both;
width: auto;
margin: 0 10px 20px;
text-align: center;
float: left;
}
.buya-main .logo2 img {
max-width: 150px;
max-height: 150px;
vertical-align: middle;
}
.buya-main .logo2 a {
text-decoration: none;
color: #6f6f6f;
}
.buya-main .logo2 span {
vertical-align: middle;
font-size: 32px;
}
.buya-main h1 {
font-size: 25px;
color: #000;
margin: 5px 10px;
}
.buya-main .description {
overflow: hidden;
font-size: 14px;
margin: 0;
padding: 15px 0px 0;
}
.buya-main .description dt {
font-weight: bold;
padding: 2px 10px;
background-color: #f3f3f3;
height: 17px;
vertical-align: middle;
}
.buya-main .description .web-title {
font-size: 16px;
}
.buya-main .description dt.web-title {
background-color: white;
}
.buya-main .description dd {
margin: 0;
color: #333;
padding: 10px 10px 0;
font-size: 12px;
}
.buya-main .description .preformatted {
white-space: pre-wrap;
}
.buya-main .description dd .ad {
padding: 15px 0 0;
}
.buya-main .characteristics,
.buya-main .materials {
border: 1px solid #ccc;
background-color: #fff;
width: 60%;
}
.buya-main .characteristics table,
.buya-main .materials table {
border-collapse: collapse;
margin: 0;
padding: 0;
width: 100%;
font-size: 12px;
}
.buya-main .characteristics th,
.buya-main .materials th {
padding: 2px 7px;
background: #f3f3f3;
text-align: left;
font: 12px Arial, Helvetica, sans-serif;
}
.buya-main .characteristics td,
.buya-main .materials td {
padding: 7px 12px;
border-left: 1px solid #ccc;
border-top: 1px solid #ccc;
color: #333;
line-height: 14px;
vertical-align: top;
}
.buya-main .characteristics td:first-child,
.buya-main .characteristics th:first-child,
.buya-main .materials td:first-child,
.buya-main .materials th:first-child {
border-left: none;
}
.buya-main .characteristics tr:first-child td,
.buya-main .materials tr:first-child td {
border-top: none;
}
.buya-main .characteristics .col1 {
width: 106px;
}
.buya-main .materials .col1 {
width: 100px;
}
.buya-main .materials .diamond-table {
border: 1px solid #ccc;
width: 100%;
margin-top: 5px;
}
.buya-main .materials .diamond-table th {
text-align: center;
}
.buya-main .materials .diamond-table td {
padding: 7px 7px;
text-align: center;
}
.buya-main .materials .diamond-table .col1 {
color: #333;
width: 50%;
vertical-align: top;
}
.buya-main .materials .stone-table {
border: 1px solid #ccc;
width: 205px;
margin-top: 5px;
}
.buya-main .materials .stone-table th {
text-align: center;
}
.buya-main .materials .stone-table td {
padding: 7px 7px;
text-align: center;
}
.buya-main .materials .stone-table .col1 {
color: #333;
width: 189px;
vertical-align: top;
}
.buya-main .jewelry-image {
text-align: center;
font-size: 9px;
}
.buya-main .jewelry-image img {
max-width: 80px;
max-height: 80px;
}
.buya-main .materials .jewelry-image {
margin-top: 30px;
}
.buya-main .stone-table .jewelry-image,
.buya-main .diamond-table .jewelry-image {
margin-top: 5px;
}
.buya-main .view-all {
padding: 2px 0 5px 3px;
font: 12px/16px Verdana, Arial, Helvetica, sans-serif;
}
.buya-main .view-all span {
font-size: 13px;
color: #a3a3a3;
font-weight: bold;
padding: 0 3px 0 0;
}
.buya-main .info-images {
height: auto;
overflow: hidden;
width: 100%;
}
.buya-main .info-column {
width: auto;
float: none;
overflow: hidden;
}
.buya-main .images-column {
width: auto;
float: right;
text-align: right;
margin-top: 20px;
margin-left: 30px;
}
.buya-main .images-column div {
padding-top: 25px;
}
.buya-main .images-column:after {
content: ";
display: block;
clear: both;
}
.bravo-footer {
margin-top: 85px;
font-family: 'Open Sans', Arial, Helvetica, sans-serif;
color: #131313;
}
.bravo-footer img {
background-color: transparent;
}
.bravo-footer .line-image {
width: 730px;
height: 2px;
}
.bravo-footer-container {
width: 791px;
margin: 0 auto;
overflow: hidden;
}
.bravo-footer-left {
width: 498px;
float: left;
}
.bravo-footer-left span {
display: block;
position: relative;
}
.bravo-footer-left .bravo-footer-logo {
float: left;
margin: 5px 12px 4px 42px;
display: block;
width: 81px;
height: 80px;
}
.bravo-footer-left .horizontal-line {
display: block;
margin: 0 auto;
width: 424px;
height: 4px;
}
.bravo-footer-left a {
display: block;
position: relative;
text-align: center;
font-size: 9.6px;
}
.bravo-footer-left a:link,
.bravo-footer-left a:visited {
color: #5d5195;
text-decoration: underline;
}
.bravo-footer-left a:hover,
.bravo-footer-left a:active {
color: #5d5195;
text-decoration: none;
}
.bravo-footer-left .big-title {
font-size: 34px;
float: left;
top: 10px;
}
.bravo-footer-left .bravo-title {
color: #631c0d;
display: inline;
position: static;
}
.bravo-footer-left .small-title {
font-size: 19px;
top: 3px;
left: 2px;
}
.bravo-footer-left p {
margin: 3.5px auto;
text-align: center;
font-size: 13.2px;
line-height: 14.5px;
width: 415px;
}
.bravo-footer-right {
float: right;
}
.bravo-footer-right .ebay-member-logo {
width: 293px;
height: 154px;
}
Apple Watch Series 3 (42mm) A1861 Silver Case & White Sport Band GPS + LTE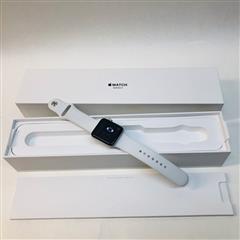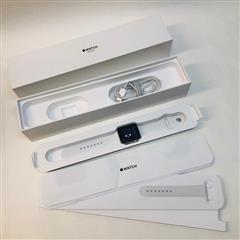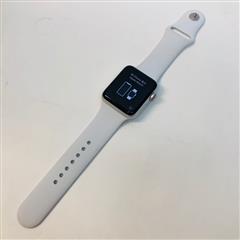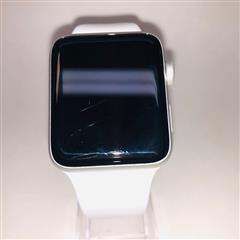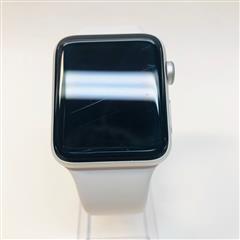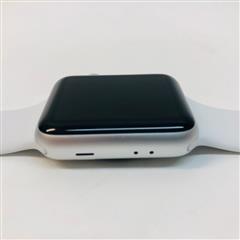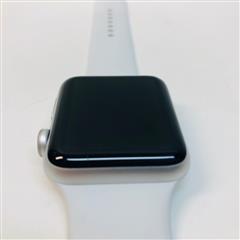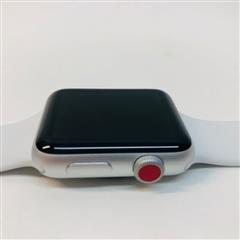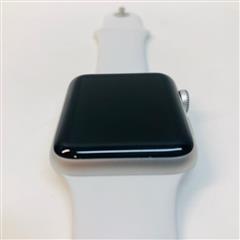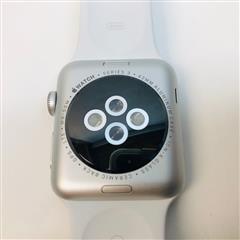 Description:

APPLE WATCH SERIES 3 (42MM) A1861 SILVER CASE & WHITE SPORT BAND GPS + LTEMTGR2LL/A – LTE (CELLULAR) SERVICE NOT GUARANTEED TO WORK WITH YOUR CARRIER
Details

| | |
| --- | --- |
| Watch Condition Rating? | 86% – VERY GOOD. THE WATCH SHOWS WHAT MIGHT BE CONSIDERED NORMAL WEAR BY A CAREFUL OWNER WHO WORE THE WATCH REGULARLY. SCRATCHES ARE EVIDENT, BUT NO NICKS OR DINGS. MAY HAVE REPLACEMENT PARTS AND/OR A HIGH QUALITY REDIAL. RUNNING AND KEEPING GOOD TIME, THOUGH MAY NEED MINOR REGULATION. A SOUND, ATTRACTIVE PRESENTATION OVERALL. |
| Case Material | Color | NOT LISTED |
| Movement Type? | Mechanical (Automatic) |
| Watch Band Material? | RUBBER | SILICON |
| Watch Feature? | GPS |
| Year of Manufacture | 2016 – Now |
| Box and Papers ? | INCLUDES ORIGINAL BOX AND PAPERS |
| Style ? | SPORT |
| Display? | DIGITAL |
| Face Color | Silver |
| Watch Shape | Cushion |
Notes:

DISCLAIMER: This Apple Watch is not guaranteed to work with your carrier with a new LTE or Cellular subscription

This item is guaranteed to work as designed and comes with a thirty-day money-back guarantee.
PLEASE REVIEW PHOTOS for exact cosmetic condition and design details
Item will be carefully packaged & shipped fast!
TERMS:
If you have any questions that were not answered in the description above, feel free to send me a message prior to bidding/purchasing item.
Photos are of actual item(s) being shipped unless stock photo present or otherwise stated. If you do not see an item that you believe should be included please send me a message to clarify: if it is not shown in the photos then it is considered not included unless stated otherwise.

Thanks for stopping by! Be sure to check out my other listings!
Payment
Shipping

Your item will be shipped within 1-2 business day(s).
After shipping your items will be delivered within 1-10 business days.
Terms of Sale

Tax applies in: KS
About Us

Heartland opened for business in 2010 with two brick-and-mortar locations- one in Olathe, KS and one in Overland Park, KS!

We sell all types of electronics – laptops, tablets, Apple products, & cell phones.
We sell all video game systems from the vintage to the latest.
Bar lights, collectibles, coins, jewelry, car audio. We buy and sell pretty much anything! Whatever works best for our customer. Our goal is to do what's right for the customer first.
With friendly staff and several bi-lingual associates, we provide top quality service. Everything we do is focused around our customer. People are amazed every day when they wander in to check out our store on-line or local. Clean, friendly, safe, and comfortable. Stop in today or any day!
Things I Buy:

Musical Instruments, Guitars, Televisions, Car Audio/Video, Jewelry, Gold, Power Tools, Vintage Video Games, Bar Lights, Coins
Specification:
Apple Watch Series 3 (42mm) A1861 Silver Case & White Sport Band GPS (HE1015083)
| | |
| --- | --- |
| Brand | APPLE |
| Model | WATCH MTGR2LL/A |
| Gender | Men's |
| Face Color | Silver |
| Watch Shape | Cushion |
| UPC | 190198804792 |
Related Products
Added to wishlist
Removed from wishlist
0
Added to wishlist
Removed from wishlist
0
Added to wishlist
Removed from wishlist
0