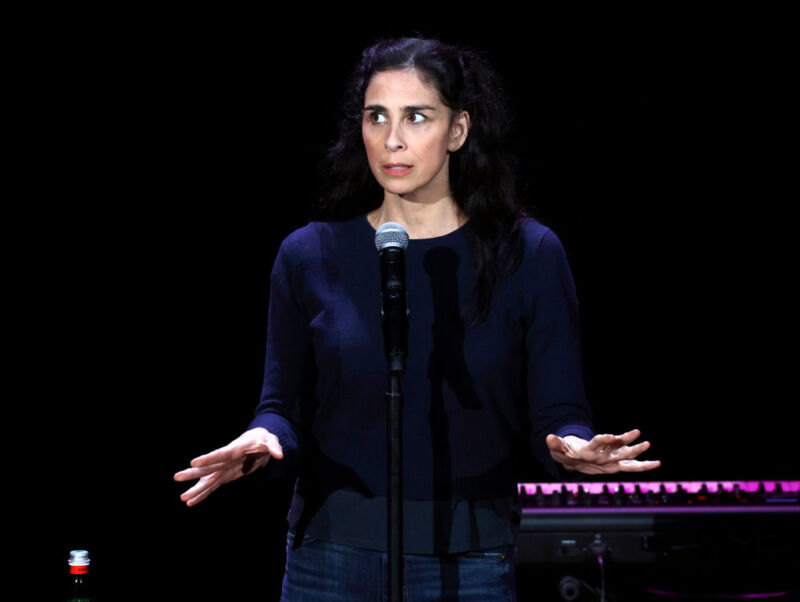 On Friday, the Joseph Saveri Law Firm filed US federal class-action lawsuits on behalf of Sarah Silverman and other authors against OpenAI and Meta, accusing the companies of illegally using copyrighted material to train AI language models such as ChatGPT and LLaMA.
Other authors represented include Christopher Golden and Richard Kadrey, and an earlier class-action lawsuit filed by the same firm on June 28 included authors Paul Tremblay and Mona Awad. Each lawsuit alleges violations of the Digital Millennium Copyright Act, unfair competition laws, and negligence.
The Joseph Saveri Law Firm is no stranger to press-friendly legal action against generative AI. In November 2022, the same firm filed suit over GitHub Copilot for alleged copyright violations. In January 2023, the same legal group repeated that formula with a class-action lawsuit against Stability AI, Midjourney, and DeviantArt over AI image generators. The GitHub lawsuit is currently on path to trial, according to lawyer Matthew Butterick. Procedural maneuvering in the Stable Diffusion lawsuit is still underway with no clear outcome yet.
In a press release last month, the law firm described ChatGPT and LLaMA as "industrial-strength plagiarists that violate the rights of book authors." Authors and publishers have been reaching out to the law firm since March 2023, lawyers Joseph Saveri and Butterick wrote, because authors "are concerned" about these AI tools' "uncanny ability to generate text similar to that found in copyrighted textual materials, including thousands of books."
The most recent lawsuits from Silverman, Golden, and Kadrey were filed in a US district court in San Francisco. Authors have demanded jury trials in each case and are seeking permanent injunctive relief that could force Meta and OpenAI to make changes to their AI tools.
Meta declined Ars' request to comment. OpenAI did not immediately respond to Ars' request to comment.
A spokesperson for the Saveri Law Firm sent Ars a statement, saying, "If this alleged behavior is allowed to continue, these models will eventually replace the authors whose stolen works power these AI products with whom they are competing. This novel suit represents a larger fight for preserving ownership rights for all artists and other creators."
Accused of using "flagrantly illegal" data sets
Neither Meta nor OpenAI has fully disclosed what's in the data sets used to train LLaMA and ChatGPT. But lawyers for authors suing say they have deduced the likely data sources from clues in statements and papers released by the companies or related researchers. Authors have accused both OpenAI and Meta of using training data sets that contained copyrighted materials distributed without authors' or publishers' consent, including by downloading works from some of the largest e-book pirate sites.
In the OpenAI lawsuit, authors alleged that based on OpenAI disclosures, ChatGPT appeared to have been trained on 294,000 books allegedly downloaded from "notorious 'shadow library' websites like Library Genesis (aka LibGen), Z-Library (aka Bok), Sci-Hub, and Bibliotik." Meta has disclosed that LLaMA was trained on part of a data set called ThePile, which the other lawsuit alleged includes "all of Bibliotik," and amounts to 196,640 books.
On top of allegedly accessing copyrighted works through shadow libraries, OpenAI is also accused of using a "controversial data set" called BookCorpus.
BookCorpus, the OpenAI lawsuit said, "was assembled in 2015 by a team of AI researchers for the purpose of training language models." This research team allegedly "copied the books from a website called Smashwords that hosts self-published novels, that are available to readers at no cost." These novels, however, are still under copyright and allegedly "were copied into the BookCorpus data set without consent, credit, or compensation to the authors."
Ars could not immediately reach the BookCorpus researchers or Smashwords for comment. [Update: Dan Wood, COO of Draft2Digital—which acquired Smashwords in March 2022—told Ars that the Smashwords  "store site lists close to 800,000 titles for sale," with "about 100,000" currently priced at free.
"Typically, the free book will be the first of a series," Wood said. "Some authors will keep these titles free indefinitely, and some will run limited promotions where they offer the book for free. From what we understand of the BookCorpus data set, approximately 7,185 unique titles that were priced free at the time were scraped without the knowledge or permission of Smashwords or its authors." It wasn't until March 2023 when Draft2Digital "first became aware of the scraped books being used for commercial purposes and redistributed, which is a clear violation of Smashwords' terms of service," Wood said.
"Every author, whether they have an internationally recognizable name or have just published their first book, deserve to have their copyright protected," Wood told Ars. "They also should have the confidence that the publishing service they entrust their work with will protect it. To that end, we are working diligently with our lawyers to fully understand the issues—including who took the data and where it was distributed—and to devise a strategy to ensure our authors' rights are enforced. We are watching the current cases being brought against OpenAI and Meta very closely."]
Source link