Sharp introduced the Aquos R6 in mid-2021 and stunned the world with the phone's 240Hz display and 1" camera sensor. It also stole Sony's thunder as the phone launched a few months before the Xperia Pro-I. However, the R6 was exclusive to the Japanese market, so Sony had the rest of the world to itself.
The other Aquos R phones have a similar story – great specs, limited availability. The most recent entries, the Sharp Aquos R8 and the R8 Pro, also launched exclusively in Japan. Sort of. The company just introduced the Sharp Aquos R8s Pro in Taiwan and you may think that the "s" stands for some sort of upgrade, but the specs appear to be the same.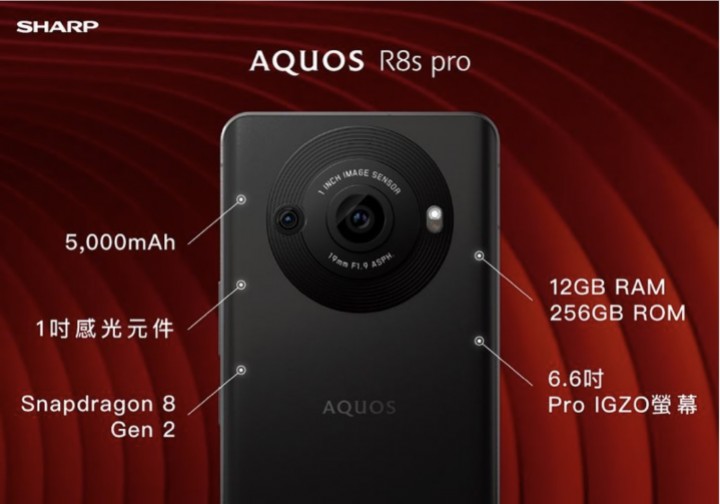 The star of the show is the 1" 47.2MP sensor on the rear, which has a 19mm f/1.9 lens. The only other real camera is on the front – a 12.6MP selfie with a 27mm f/2.3 lens. There is a second module on the back, but it's mission is to assist the 1" sensor get the best photos possible. It's a 14-channel spectrum sensor that captures detailed data on the ambient light conditions, which is then used to adjust the photos from the main cam.
The other star is, of course, the 6.6" IGZO OLED panel with 1,260 x 2,730px resolution, 2,000 nits brightness and 240Hz refresh rate. These are the same as on the R8 Pro.
The chipset is the same too, Snapdragon 8 Gen 2, which is paired with 12GB of RAM and 256GB storage (and a microSD slot to boot). The "s" model doesn't even include a memory upgrade. The battery is the same as well, with 5,000mAh capacity.
The company is also launching the smaller Sharp Aquos R8s. It shouldn't shock you to hear that it's the same as the Aquos R8. It drops down to a 50.3MP 1/1.55" main camera (23mm f/1.9) but gains a 13MP ultra wide module (17mm f/2.3), the front camera has an 8MP sensor (26mm f/2.0 lens).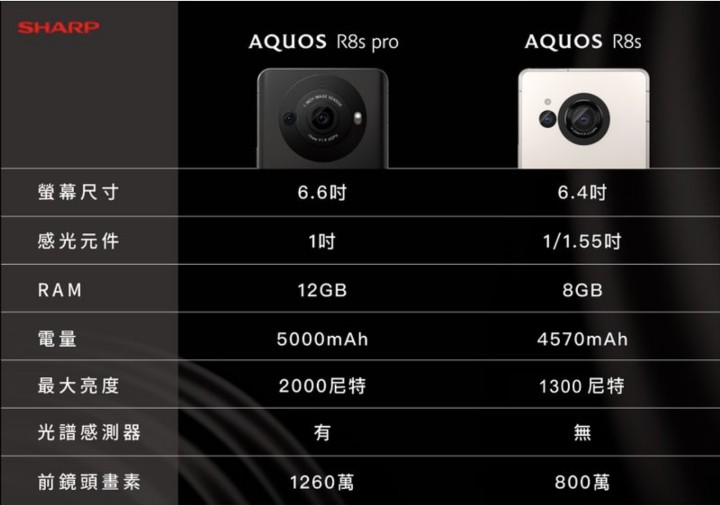 The R8s also has a smaller display, a 6.4" FHD+ IGZO OLED (1,300 nits, 240Hz) and a smaller 4,570mAh battery. It uses the same Snapdragon 8 Gen 2 chip though with less RAM, 8GB. The 256GB storage is expandable via microSD cards up to 1TB. Both phones have 3.5mm headphone jacks.
Sharp is taking pre-orders for the two phones with early bird pricing – the Aquos R8s is TWD 23,490, the Aquos R8s Pro is TWD 32,490 (that works out $735 and $1,000 in American dollars). Pre-orders also come with an exclusive phone case and lens filter. You can get a TWD 500 discount code if you fill out a short questionnaire.
Source (in Chinese)
Source link