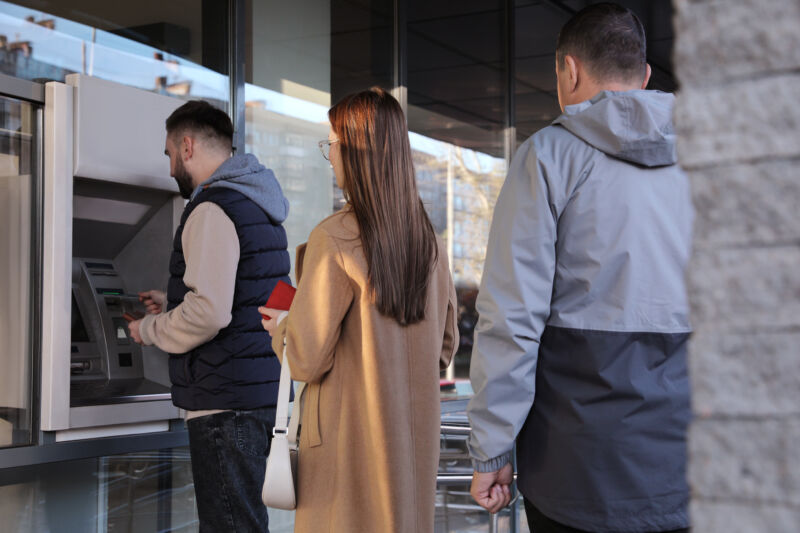 People were flocking to ATMs in Ireland last night as the machines seemed to be in a giving mood. Thanks to a technical glitch in Bank of Ireland's systems, customers could reportedly pull 1,000 euros (about $1,090) from ATMs even if they didn't have anything in their account.
As reported by local media, a technical outage allowed Bank of Ireland app users to move money that they didn't actually have into a Revolut account (Revolut is a London-headquartered company offering digital banking services). Then, customers could use any ATM to retrieve their windfall.
Customers are usually limited to moving 500 euros from their account daily, but Irish publications, including the Irish Independent and The Irish Times, reported that customers claimed to have moved 1,000 euros.
Lines formed around ATMs as customers could suddenly receive an unexpected payday. In some cases, the police showed up. The video in this BBC story shows how busy some ATMs were.
Bank of Ireland's technical challenges started Tuesday when it acknowledged via its X (formerly Twitter) account that customers using its mobile app and online services were having "difficulties." That evening, the bank pointed to a "technical issue" before quickly warning customers against exploiting the glitch to line their pockets.:
We would like to remind customers if transferring/withdrawing funds-including over normal limits-this money will be debited from their account. We are conscious customers may not be able to check balances, but should not withdraw/transfer if they are likely to become overdrawn.
According to the Independent, the glitch resulted in "huge queues at ATMs in Dublin, Limerick, Dundalk and other parts of the country." Northern Ireland customers could have tried to pull money they didn't have from ATMs, too, but a bank spokesperson told the BBC that the bank "didn't have similar reports of customers using Northern Ireland ATMs late last night." 
Today, the Bank of Ireland told The Irish Times that the "volume of transactions conducted last night wouldn't be a significant proportion of our overall transactions volumes through an average day."
The bank didn't respond to Ars Technica's request for comment about what caused the problem, but it told The Irish Times that it was not connected to a cyberattack.
Who's going to pay for this?
"I don't know if I'll get away with it, but it's worth a shot," a man using an ATM in Dublin who reportedly heard of the glitch online told The Irish Times.
The suggestion of free money is exhilarating, but as we all know, banks aren't in the business of giving away cash. This is no exception.
As noted above, Bank of Ireland told customers via X that they'd be charged for any money removed. However, it's unclear if the Bank of Ireland made this announcement through other communication channels besides its social media account.
The Irish Times asked the Bank of Ireland how it would ensure customers' credit ratings aren't harmed due to this fiasco and was reportedly told that customers "who may find themselves in financial difficulty due to overdrawing on their account" should contact the bank. The bank's representative also told the publication that customers won't "be out-of-pocket where any direct debits, interest, or other related fees accrue due to the outage."
Irish publication The Journal asked the bank if customers who overdrafted their account would face overdraft or interest rate fees and was told: "There will be no customer detriment in relation to interest in that scenario." 
After a flub like though, it still seems plausible that users who overdrew from their accounts, whether accidentally or intentionally, may have a headache on their hands, even if it's only a matter of dealing with customer service.
That's why Ireland's Central Bank is getting involved. In a statement cited by The Irish Times, the bank said it was monitoring the situation and "engaging with Bank of Ireland to ensure that any issues and errors identified are resolved for customers, and that it is doing all it can to ensure customers' expectation of a high quality, uninterrupted service is met."
Various publications shared a statement from the Bank of Ireland today that says, in part:
Yesterday a technical issue impacted a number of Bank of Ireland's services. Our teams restored these services overnight and all services are available to customers this morning. Overnight payments to accounts may appear throughout the day.

We are aware that the technical issue meant some customers were able to withdraw or transfer funds above their normal limits.

These transfers and withdrawals will be applied to customers accounts today …

We sincerely apologise for the disruption this outage caused—we know we fell far below the standards our customers expect from us.
The bank says its app and online services are back to normal today but "may be slow."