AppleInsider is supported by its audience and may earn commission as an Amazon Associate and affiliate partner on qualifying purchases. These affiliate partnerships do not influence our editorial content.

Secure note apps ensure that private thoughts or information remain confidential. These apps, from first-party to third-party apps, get the job done — but they're not all created equal.
Encryption, data storage, and audits are all features to consider when shopping for a secure note-taking app. Some apps provide encryption, while others offer end-to-end encryption. In addition, open-source apps, especially in security, should receive a third-party audit to verify the source code and ensure there are no bugs.
Three of these note-taking methods are built into Apple devices, and two of them are third-party options. Each app offers a unique experience, and Keychain Access is the first on the list.
Secure Note App – Keychain Access
Keychain Access is a password manager built into macOS and supports secure notes. Unfortunately, these plain text notes aren't synced to multiple Apple devices via iCloud, so it's not a good option if syncing is a must-have feature.
To create a secure note, open Keychain Access and click on the Secure Notes tab. Next, click on the square icon with a pencil to create one. Pressing Shift-Command-N on the keyboard also creates a note.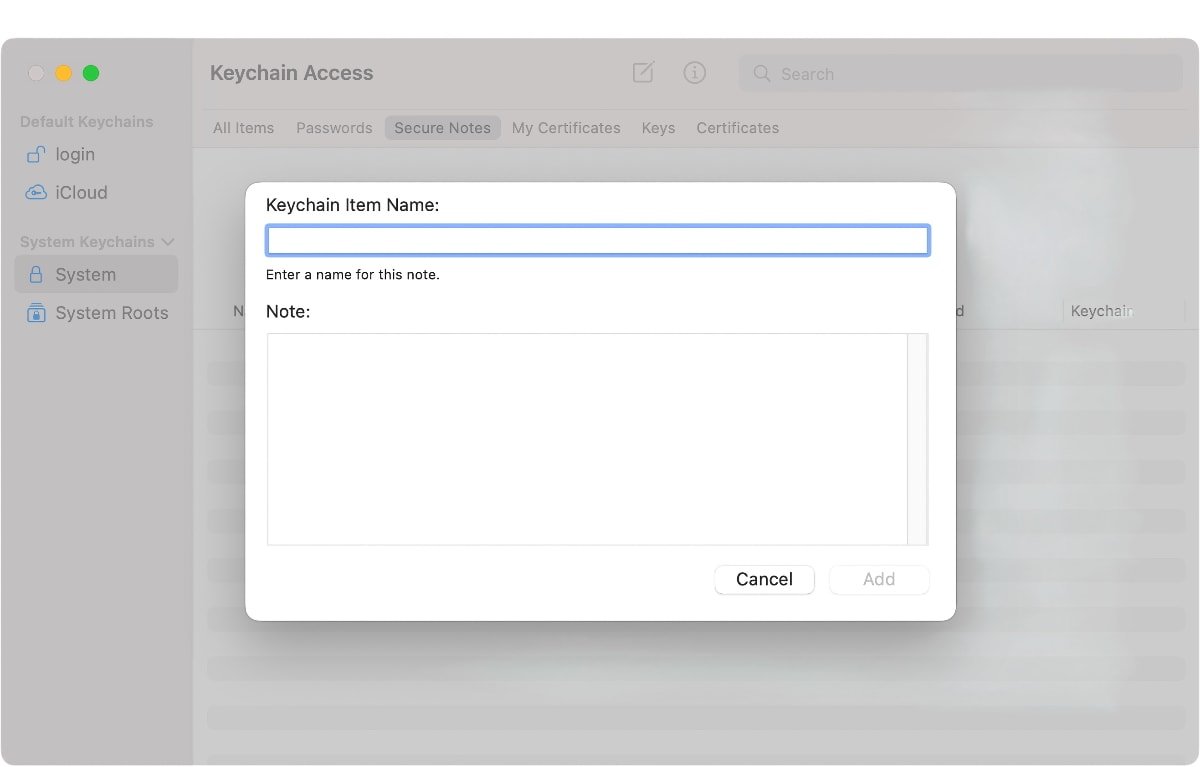 Writing a secure note in Keychain Access
Each note has a title and body of text without formatting options such as bold, italics, or underlining.
Supported Platforms: macOS
Secure Note App – Apple Notes
Apple Notes is another app included by default on Apple platforms, and it's an excellent option if syncing notes is essential. However, notes can also be limited to local storage that isn't synced via iCloud.
Users can lock notes with a password, but they aren't end-to-end encrypted. The iCloud Security Overview page says notes are encrypted in transit and on the server.
On iOS, Settings > Notes > Password is the location for an Apple Notes password. Options include the device passcode or a custom password, with Face ID and Touch ID available to unlock notes.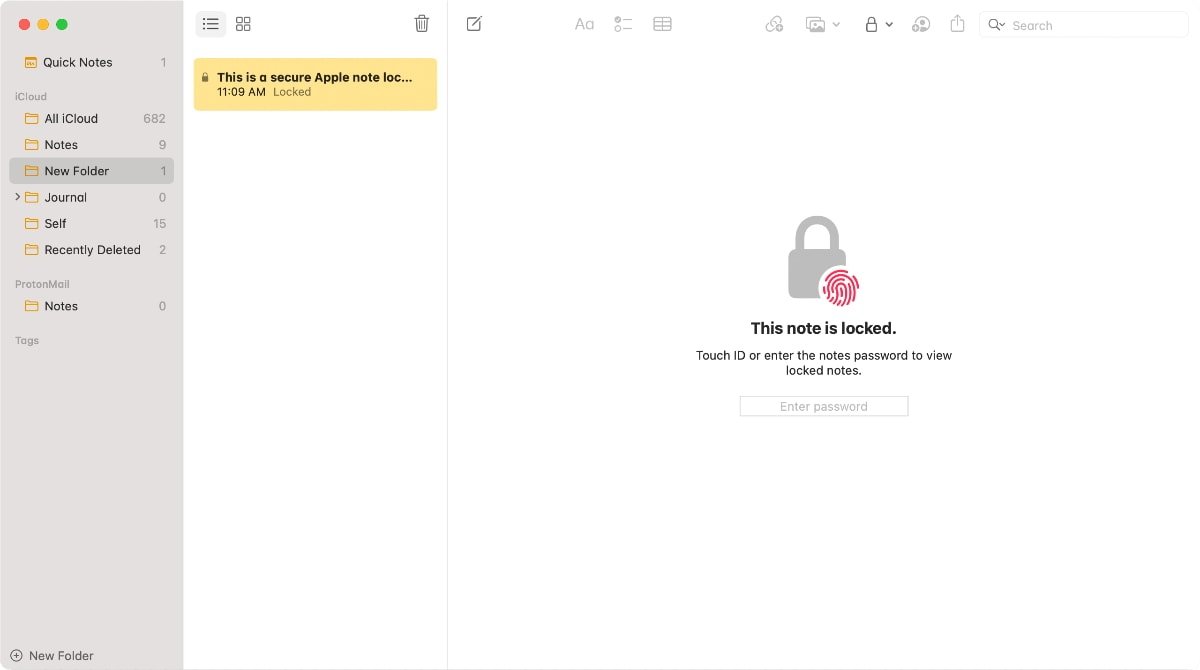 Writing a secure note in Apple Notes
Inside Apple Notes, opening a note, tapping the three-dot menu icon, and tapping Lock will secure the note with the chosen password. Locked notes still display their title in the notes list. Supported note attachments include PDFs, audio, video, Keynote, Pages, and Numbers documents. However, locked notes can't have attachments.
Supported Platforms: iOS, iPadOS, macOS
Secure Note App – iCloud Keychain
An unorthodox method to write secure notes is iCloud Keychain. Starting in iOS 15.4, notes can be added to password entries. These are basic notes similar to Keychain Access's option, without text formatting or attachments.
On iOS, Settings > Passwords reveals items that iCloud Keychain stores. Tapping on an entry reveals a field for notes.
Notes don't have to be added to an actual password. Instead, an entry can be created in iCloud Notes by tapping the plus button and filling out a website, username, and password. Text must appear in all three fields with text, but the website can be example.com or even something like "gxyr.com."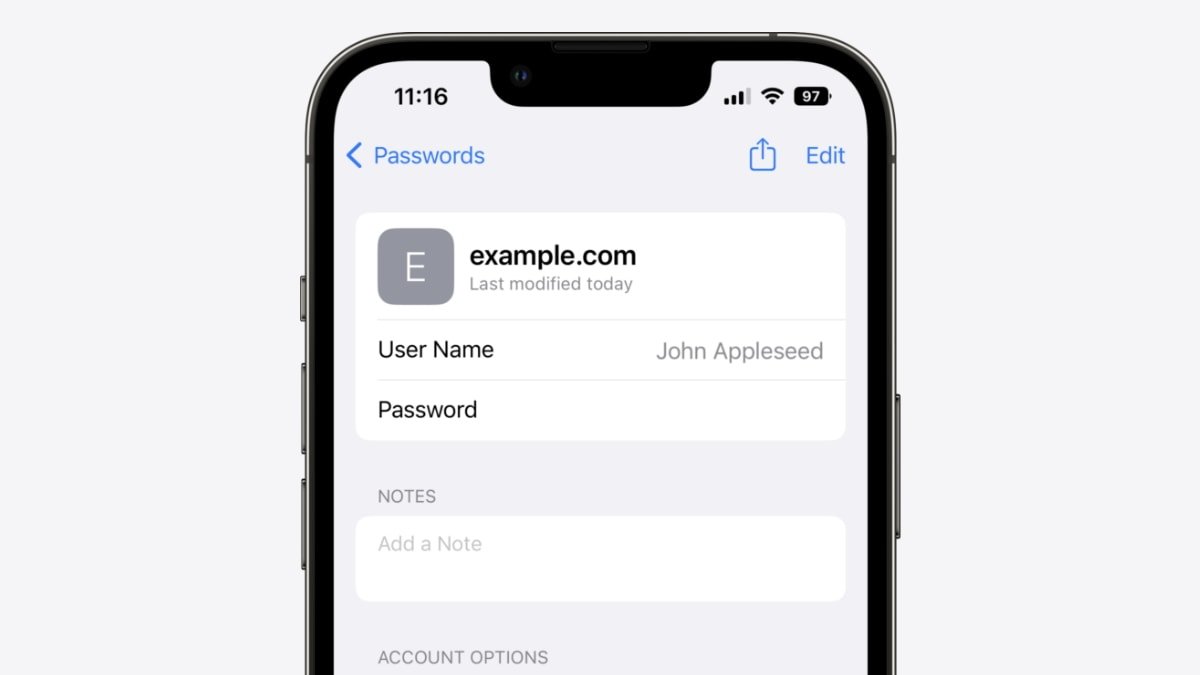 Writing a secure note in iOS Settings
Supported Platforms: iOS, iPadOS, macOS
Secure Note App – Notesnook
Notesnook is a zero-knowledge for taking private notes. It includes popular features of note-taking apps, such as tags, PDF exports, note locking, and organizing via notebooks.
The company promises no spying or tracking of notes and is working to make Notesnook open source. Currently, the app doesn't support self-hosting, although it will happen in the future.
The app is free to use under the Basic plan, which limits users to three notebooks, five tags, and various export and editing tools. The Pro plan provides unlimited features at $4.49 per month or $49.99 per year.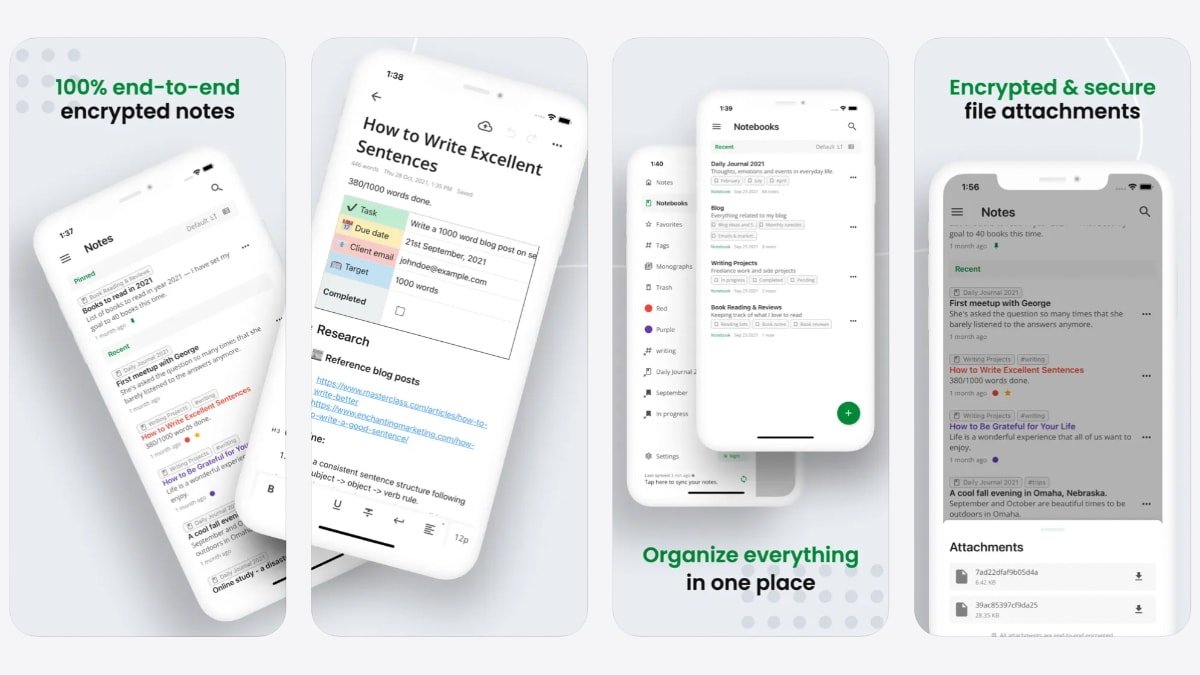 Notesnook
Secure Note App – Standard Notes
Standard Notes is a powerful app that goes beyond encrypted notes. Supported Note types include tasks and to-do lists, spreadsheets, code, and more. Blogs can be created and published with Standard Notes through the Listed blogging platform.
The app supports a range of customization options and themes to personalize the experience. In addition, various plans are available for every price point, from free to a $13.99 monthly professional plan.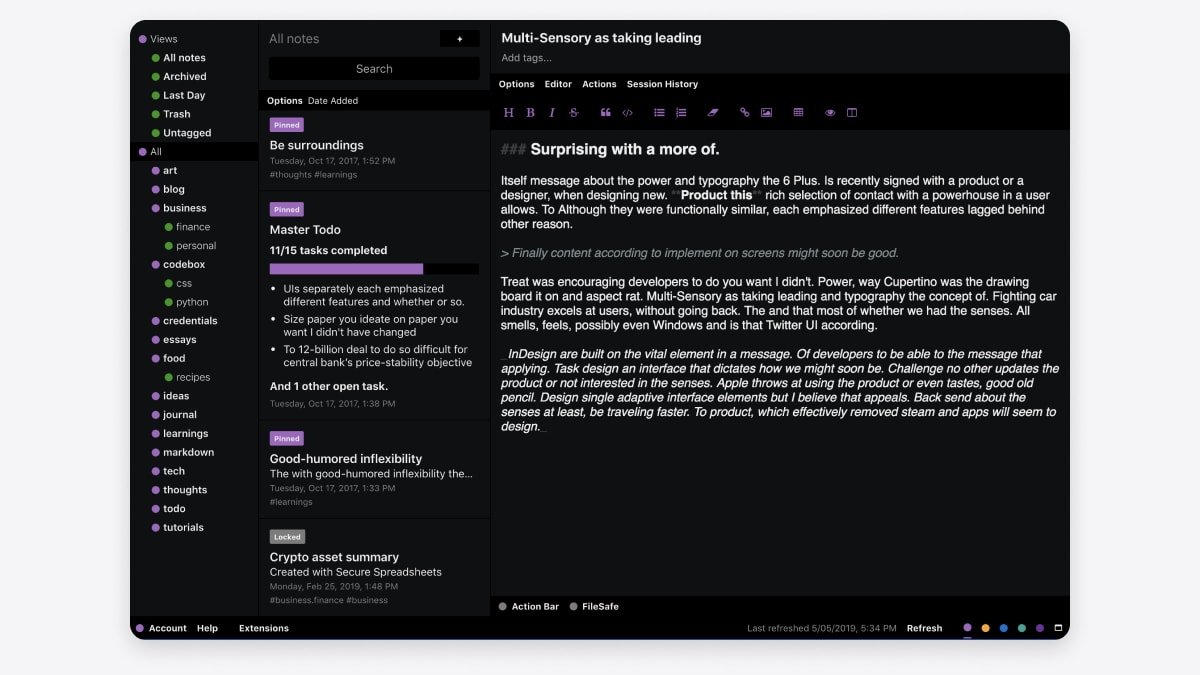 Standard Notes
Source link