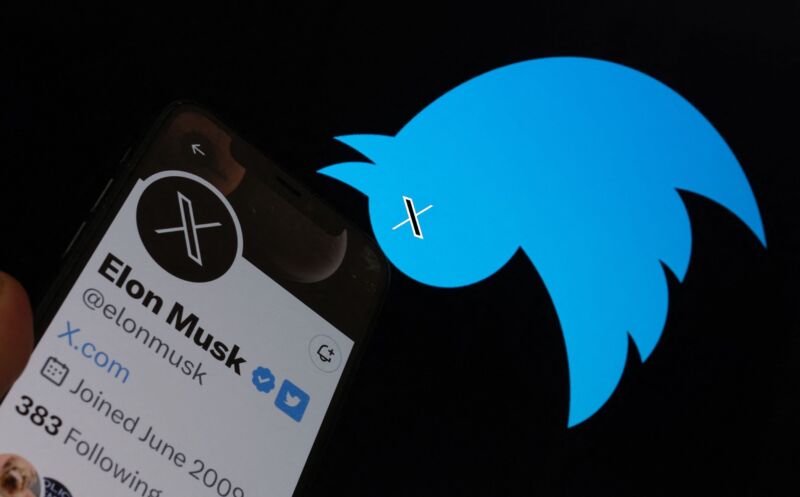 Elon Musk's decision to rebrand Twitter as "X" wouldn't be complete without a change to the company's official Twitter account. The @X handle was already taken by a user who registered it over 16 years ago, but that wasn't much of an obstacle—Twitter simply took over the username and offered its longtime owner some merchandise but no monetary compensation.
San Francisco-based photographer Gene X Hwang was @X on Twitter from March 2007 until yesterday. "They just took it essentially—kinda what I thought might happen," Hwang told The Telegraph. "They did send an email saying it is the property of 'x' essentially."
Hwang confirmed to Ars today that "there was no financial compensation" offered to him. The company offered "to switch the @x account and its history/followers etc to a new handle once I select one that is available," Hwang told us. "They also offered some merch and to meet with the management team as well."
Hwang said he doesn't feel any "need to meet with the management since I am not sure what that convo would be really." The meeting would probably be "awkward," he said.
No plans to fight change
The former @X account holder has no plans to fight the change, Hwang told Ars. "I am definitely not a legal expert and not sure what rights there are," he wrote in an email, adding that "maybe there is something there but [I] don't really wanna fight that kind of fight as I like to keep my life more simple."
Hwang is still on Twitter with the new handle of @x12345678998765. "Alls well that ends well," he tweeted last night. He told Ars that @x12345678998765 is the handle Twitter moved him to temporarily before he picks a new name.
Hwang said he "didn't need to hear from Mr. Musk directly but it would have been nice to have gotten something for the account." He views any compensation as "more of a nice-to-have/bonus" rather than a requirement, he said. "Maybe I should ask for the blue bird they are taking down from the [headquarters building] sign since it's no longer Twitter any more, or a friend suggested asking for a Tesla Model X or a ride on SpaceX!" Hwang told us.
Before the @X handle was taken away, Hwang said he would be willing to give it up in exchange for payment. "I'm kind of waiting to see what might happen," and "I would be willing to part with the handle if they made an offer for it that made sense," he told TechCrunch earlier this week. No one from Twitter reached out to him before the company rebranded as X, he also said.
Hwang was quoted as saying several years ago that he turned down offers as high as $40,000 because he didn't think they were legitimate. "I really didn't entertain any of them seriously," he said at the time.
Twitter claims right to take any username
Twitter's official account was formerly @twitter, but the profile says, "This account is no longer active. Follow @x for updates." The @X account is now populated with years worth of tweets that originally appeared on the @Twitter account, giving the impression that it was X all along.
Twitter says it can take over any username in its terms of service. "We may also remove or refuse to distribute any Content on the Services, limit distribution or visibility of any Content on the service, suspend or terminate users, and reclaim usernames without liability to you," the Twitter terms say. That line was already in the Twitter terms before Musk bought the company.
Usernames can have a monetary value. The owner of @N, Naoki Hiroshima, wrote in 2014 that he'd "been offered as much as $50,000 for it" and that people "have tried to steal it." One hacker was successful in taking control of @N, but Twitter later restored the handle to Hiroshima.
In January, a New York Times report said that "Twitter has considered selling user names to generate new revenue as its owner, Elon Musk, tries to resuscitate the company's business." Under Musk, Twitter has also gotten more aggressive about purging accounts that seem to be inactive.